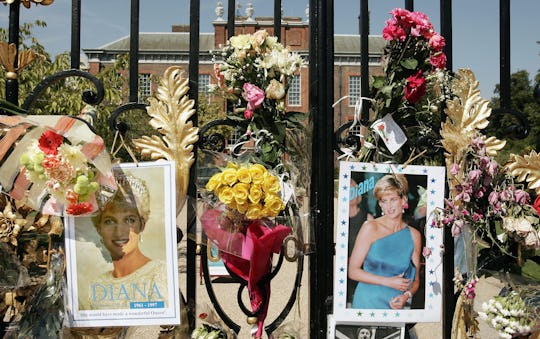 Peter Macdiarmid/Getty Images News/Getty Images
Multiple Factors Contributed To Princess Diana's Car Crash
Princess Diana lost her life 20 years ago in a sudden car accident in Paris on August 31, 1997. It was a tragedy that shocked the world, and it also drew attention to many of the issues Diana had faced in her public life, including nonstop paparazzi attention and lack of privacy. People have analyzed the cause of the accident for decades and come up with many conspiracy theories to try and explain it, but why did Princess Diana's car crash?
The accident itself occurred late at night on August 30. Diana and her friend Dodi al-Fayed were returning to his Paris apartment following a dinner at the Ritz Hotel, accompanied by her bodyguard Trevor Rees-Jones and driven by chauffeur Henri Paul. The car crashed into a pillar in the Place de l'Alma underpass. Rees-Jones was the only one to survive the accident; al-Fayed and Paul died in the crash, while Diana passed away hours later in the hospital.
There was plenty of speculation about what caused the accident, with some theories being much wilder than others. Many believed it was pursuit by the paparazzi that made the chase turn fatal, while others felt the accident wasn't really an accident at all. However, court rulings proved that a combination of factors caused Princess Diana's car crash (which was determined to be an accident).
In 2008, courts ruled that there were two main causes in the accident that killed Princess Diana: both the paparazzi and the driver Henri Paul were found negligent in her death. At the time of the crash, Paul was intoxicated; in fact, his blood alcohol levels were well over the legal limit. The fact that he was drunk, combined with the fact that they were trying to evade the paparazzi, presumably led to the reckless driving that cost three people their lives that night.
The press had scrutinized Diana intensely following her marriage to Prince Charles, making her private pain public and turning a magnifying glass on her life. While the paparazzi were not the only factor in the accident, they made an already dangerous situation worse. It's impossible to say what could have happened had things been different, because everything going on that night contributed to what happened. Paul should not have been allowed to be behind the wheel, and Diana shouldn't have been hounded by the paparazzi.
Many things that contributed to crash could have been avoided, making an already tragic situation all the more heartbreaking.