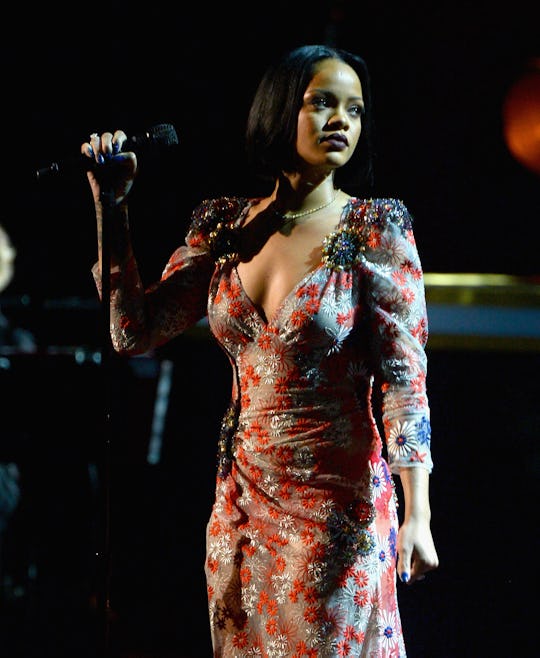 Larry Busacca/Getty Images Entertainment
Why Did Rihanna Cancel Her Grammys Performance? Fans Were Seriously Sad
Rihanna cancelled her Grammys performance at the last minute, and people were freaking out Monday night, according to TMZ. Why did Rihanna cancel her Grammys performance? Apparently she's been battling bronchitis recently. TMZ reported that her doctor on site recommended she cancel the show, which could cause permanent damage to her vocal cords. She was meant to sing "Kiss Me Better," from her ANTI album, but ended up leaving the Staples Center in Los Angeles.
"Based on Rihanna's examination, after Grammy rehearsal today, Rihanna's doctor put her on vocal rest for 48 hours because she was at risk of hemorrhaging her vocal chords," Rihanna's rep told JustJared.
Obviously, the world is disappointed, but it's good to hear that Rihanna is taking care of those pipes first and foremost. It remains to be seen what the Grammys will do to fill her performance slot, since the performances so far have seemed incredibly well-put-together — a last-minute change seems like it'd be hard to fix. However, since she's been battling bronchitis for the last while, perhaps the awards organizers already had a backup plan, though they'd be hard-pressed to find anyone that comes close to Rihanna's show-stopping performances even on slightly-longer notice.
Rihanna reached out to fans on Twitter the night of the Grammys, apologizing for skipping out:
Fans are having all sorts of feelings about the last-minute cancellation. Some suspected Rihanna might pop up as a surprise performer (though that "Ha, tricked you guys!" approach just didn't seem realistic to me), others wished her a speedy recovery, and others... well, others just couldn't deal.
A few tweets said it best:
It looks like fans will just have to play "Kiss Me Better" on repeat and imagine. Here's to hoping Rihanna feels better soon!