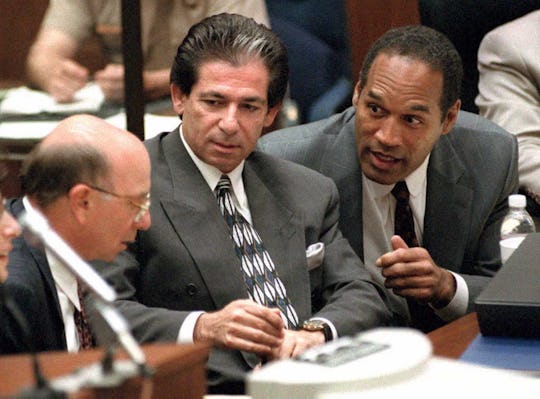 Vince Bucci/AFP/Getty Images
Why Did Robert Kardashian Stop Being A Lawyer? The Answer Is Pretty Straightforward
Excitement and eagerness over the FX American Crime Story: The People v. O.J. Simpson has been looming ever since the 10-episode series was first announced, but there's been one role in particular that we've all been waiting to see with baited breath. Kardashian family patriarch, Robert Kardashian, played a huge part in the trial and acquittal of O.J. Simpson, and his importance to the case will play out front and center on the show, which airs Tuesday, Feb. 2. Though Kardashian passed away on September 30, 2003, eight years after Simpson's trial and subsequent acquittal one question remains, why did Robert Kardashian stop being a lawyer?
First, it's important to note that Kardashian was not Simpson's sole lawyer. In fact, Kardashian never actually even considered himself an attorney representing O.J. Simpson. Instead, Kardashian acted as an adviser to Simpson's legal team at the time of the 1994 trial, according to ABCNews.com. He called himself the "liaison between the attorneys and O.J.," adding, "whenever there was bad news, I had to tell O.J." Though the late Kardashian is most notoriously known as the father of Kourtney, Kim, Khloe, and Rob Kardashian, he was also an entrepreneur and a lawyer, according to WetPaint.com, Kardashian also created the idea of playing music in between movies at movie theaters and was also CEO of the company Movie Tunes. He'd spent roughly two decades away from law before returning after the arrest of O.J. Simpson, who the CEO was famously friends with, so it makes sense that he went back to other areas of interest following the case. It's not like he had any active cases open at that time, or that he even had a law practice to return to.
Robert Kardashian, Sr. received his law degree from the University of San Francisco in 1967, according to an article published on him at the time of his passing in the New York Times, and only "reactivated his dormant lawyer's license after Mr. Simpson's arrest." Following the trial — Simpson was acquitted of all charges in criminal court — the two men had a fairly public falling out. A year after Simpson had been acquitted, Kardashian gave an interview in 1996 where he told host Barbara Walters: "I have doubts. The blood evidence is the biggest thorn in my side; that causes me the greatest problems. So I struggle with the blood evidence." You can only imagine how a comment like that would've landed for Simpson, who asserted his innocence from the time of the murders.
Kardashian had been inactive in the law realm for more than 20 years before he dusted off his license to partake in the Simpson trial — so it makes sense that he'd go back to his other pursuits following its outcome. It also seems like, following the Barbara Walters interview that aired in 1996, that the case had really shaken up Kardashian. Though he gave no formal announcement as to why he decided to not to practice following the case, Kardashian died eight years later, on September 30, 2003, due to esophageal cancer, which is a cancer of the tube that runs from the throat to the stomach.