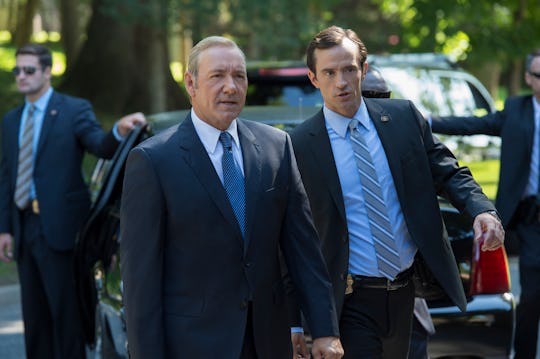 Netflix
Why Did Someone Try To Kill Frank Underwood? His Past Came Back To Haunt Him
Quite frankly, there are lots of reasons to dislike the man, but why did someone try to kill Frank Underwood in season four of House of Cards? Spoiler alert in case you're watching too slowly: in episode four, Frank gets shot in the stomach while greeting protestors at a rally. As he makes his way acknowledging but not listening to a crowd of angry college students, Lucas Goodwin lunges from somewhere in the middle of crowd and fires the shots that take down Frank and kill Meechum. Forgive me, Frank fans, but I don't know that I'll ever get over the loss of Meechum. Lucas also ends up dead.
It's crazy, right? But also predictable. Goodwin was becoming more and more unhinged after his release from prison. And no one was listening to him. Goodwin tried to kill Frank because he saw no other way to stop the Underwood Reign of Terror. As a journalist, he wasn't crazy. He was just willing to risk death to get the House of Cards' alternate-America to notice just how bad Frank Underwood can be. In a note found at his house after they identify him, Goodwin lays out all of Frank's sins and accomplices.
Goodwin starts from the top. He links Frank to Peter Russo's death, DUI coverip, and the disappearance of Rachel. He names Doug Stamper as Frank's footman. He cites abuse of power and corruption. Lucas knows Frank had him arrested because he was on the trail. He's totally right. But still even his old journalist friends don't seem to believe him. If only they could see Claire and Doug's faces when they read the same note, it would be a whole different story. Goodwin knew everything.
It's almost good, politically, for the Underwoods that Frank is unconscious, because his reputation for being slimy and sneaky was starting to get away from him this season. No one seems to notice yet that Claire is the bigger villain — she brushes away the allegations by turning them back around on Goodwin and his family. Nothing to see here. She wants to take down Frank as much as Lucas, but nothing's getting in the way of her being vice president these days.
What's satisfying about the assassination plot twist is that sort of works. Remember when they tried to kill Fitz in Scandal? It didn't seem plausible. But Underwood has so many skeletons in his closet and the House of Cards writers are so obviously not scared to off important characters that his possible death seems totally realistic.
How else is Claire going to get ahead? If we have to live in Frank's coma head all season to get glimpses of Russo and Zoe Barnes, so be it. It's sort of nice to see them again. It's also satisfying that it wasn't like someone tried to randomly kill Frank for his racist ancestry or shady dealings with Russia. Lucas Goodwin wanted Underwood to pay for something we've all been holding against him for all these years. Peter Russo and Zoe Barnes and all the other people he's destroyed trying to cover those crimes up.
Once those original sins are vindicated and the Underwoods have nothing left to hide, the jig is sort of up for House of Cards. So in the name of all that is Netflix, let's hope no one else believes Lucas.