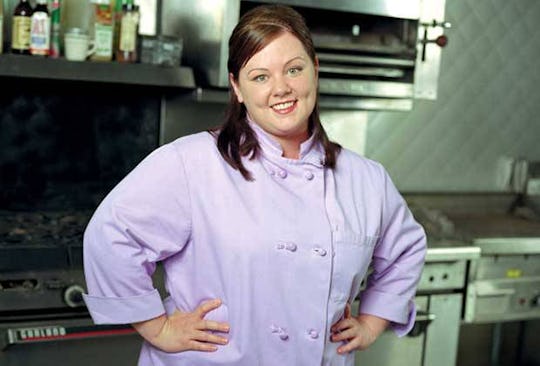 Warner Bros.
Why Did Sookie Leave The Dragonfly In The 'Gilmore Girls' Revival? She Went On Sabbatical
When news of the Gilmore Girls revival first broke, fans were worried about who would be returning and who would not. Thankfully almost everyone was able to return for the revival, including Melissa McCarthy who played Lorelai's best friend and co-worker, Sookie. (Warning: This post contains spoilers from Episode 1 of the Gilmore Girls revival.) However, even though McCarthy confirmed she'd be returning, it was made clear that it would only be a short appearance, which left fans wondering what that meant for Sookie's storyline and, unfortunately, that includes the fact that Sookie is not working at the Dragonfly anymore. So why did Sookie leave the Dragonfly in the Gilmore Girls revival? Well, she wasn't supposed to be gone so long.
During the first episode ("Winter"), viewers saw Lorelai and Michel testing out what was apparently one of many pop up chefs they'd hire to fill in for Sookie. Naturally, Lorelai was able to find something wrong with every single one and Michel finally called her out on it. The truth was that Lorelai missed Sookie, who had apparently taken a six-month sabbatical from the Dragonfly to work with chef Dan Barber at Blue Hill Farm. If you don't know Dan Barber, he's actually a real-life chef and co-owner of his restaurant, Blue Hill, in Manhattan as well as another Blue Hill restaurant at Stone Barns in Pocantico Hills, which is where Sookie presumably is.
However, instead of just being gone for six months, Sookie has been gone for a year and while Michel was ready to write Sookie off as abandoning them, Lorelai obviously doesn't want to let go of her best friend. It's unclear why Sookie really hasn't come back to the Inn, but Lorelai tried to explain that Sookie was helping Dan Barber with food growing techniques and apparently changing the world through food.
Whatever the reasoning is, this new piece of information about Sookie's life makes me all the more eager to see her return to the Dragonfly for a visit (since she's definitely going to appear at some point in the series). Sookie is the queen of the kitchen and I have to agree with Lorelai on this one — no one cooks like Sookie does and the Dragonfly isn't the same without her.