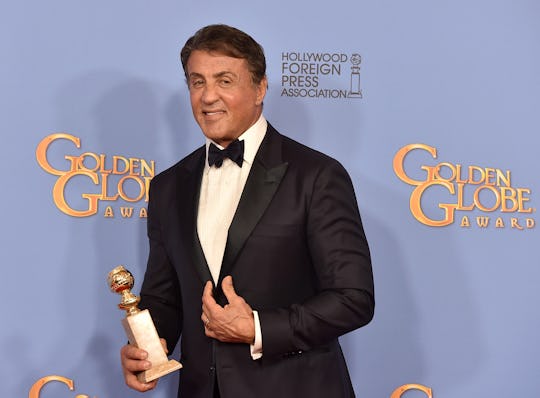 Kevin Winter/Getty Images
Why Did Sylvester Stallone Leave Ryan Coogler Out Of His Golden Globes Acceptance Speech? The Mystery Has Been Solved
Forty years after he was first nominated for playing Rocky, Sylvester Stallone took home the Best Performance by an Actor in a Supporting Role in a Motion Picture Golden Globe for his performance in Creed. You would think having all that time would have allowed him to put together a speech that acknowledged all the important people — but Stallone seemingly left out the writer-director Ryan Coogler and co-star Michael B. Jordan.
Decades after first playing the role, Stallone was lauded for his performance in Creed, which got great reviews and global earnings. Upon accepting the long-time-coming award, Stallone thanked his daughters (who are totally gorg' and were in attendance, by the way), his wife, MGM, a handful of those involved in the film and his "imaginary friend, Rocky Balboa." Then the music played and he walked off the stage, at which point he seemed to realize what everyone watching already noticed: There was no mention of Coogler and Jordan, even though the movie couldn't have even been done without the two. Hey, at least it wasn't like Hilary Swank forgetting to mention her husband in an acceptance speech — he doesn't have to go home and face the two men!
But it turns out Sly didn't forget after all — the viewers at home just didn't get to see when he finished the speech while the music was playing. As some insiders noted, he corrected himself by saying, "Did I say Ryan Coogler? You are a brilliant filmmaker... You did it all, I just hung on for dear life."
It's good to know there isn't a feud among the men after all. Wouldn't that be a disappointing twist ending to Creed?
Images: Kevin Winter/Getty Images