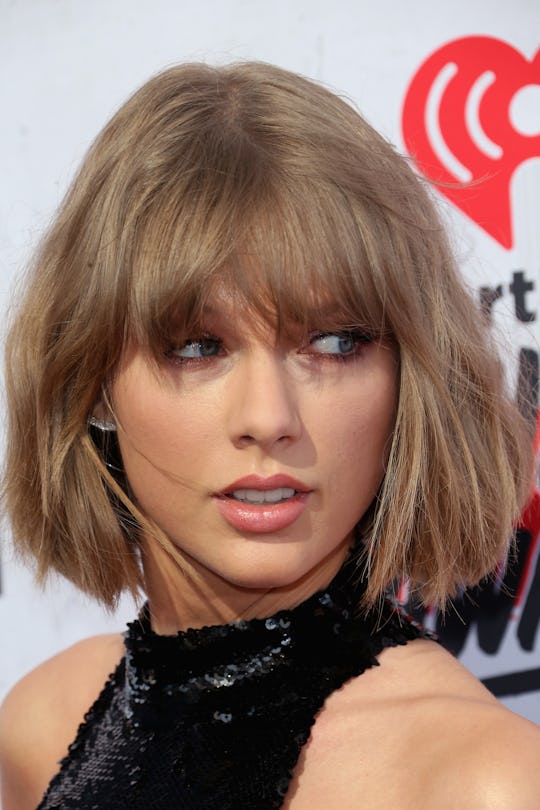 Frederick M. Brown/Getty Images Entertainment/Getty Images
Why Did Taylor Swift Call Calvin Harris "Adam" At The IHeartRadio Awards? No, She Doesn't Have A New Boyfriend
Well that was interesting... Pop singer Taylor Swift just won Female Artist of the Year at the iHeartRadio Awards on Sunday night, and she had a very special person to thank during her acceptance speech. But, uh, why did Taylor Swift call Calvin Harris "Adam" at the iHeartRadio Awards? Swift and Harris have been dating for just over a year, so who is this "Adam" character she's just mentioned to a live audience of millions?
Turns out Adam Wiles is actually Calvin Harris's real name — so no sweat, Swift doesn't have a surprise second beau! It's been quite a night for the couple. In addition to Swift taking home the award for best tour, Harris won for Dance Artist of the Year. And Sunday was a continuation of what appear to be a fantastic few weeks for the power music pair, as they recently returned from a dreamy-looking beach vacation to celebrate their year anniversary. Despite posting numerous photos of their romantic romp on Instagram, Swift and Harris haven't revealed the location of their anniversary destination, much to the dismay of adoring fans and die-hard vacationers everywhere.
After Swift took the stage to accept the award for Female Vocalist of the Year — beating out fellow nominees Adele, Carrie Underwood, Meghan Trainor, and Selena Gomez — the pop star beamed as she thanked boyfriend, "Adam," saying:
For the first time, I had the most amazing person to come home to when the spotlight went out and when the crowds were all gone, so I want to thank my boyfriend Adam for that.
The two are still going quite strong after a year, with Swift recently Instagramming a photo of a stunning engraved gold locket, a one-year anniversary gift from Harris. The locket is engraved with their anniversary date: Mar. 6, 2015.
Last year, Swift and Harris were ranked the highest-paid celebrity couple by Forbes. (This was big news to The BeyHive, as Beyoncé and Jay Z have held that power couple title for several years now.) According to Forbes' rankings, Swift and Harris bring in a collective $146 million together. Must be nice, right? Swift certainly has her incredible pop music career to credit, while Harris boasts musical credits of his own ranging from DJ, singer, songwriter, record producer, recording artist, and remixer. Harris is also a model for for Emporio Armani.
Now the musical power couple will have a pair of iHeartRadio Awards to add to their list of shared achievements. Watch Swift's iHeartRadio Award acceptance speech below:
So amazing. And so well deserved.