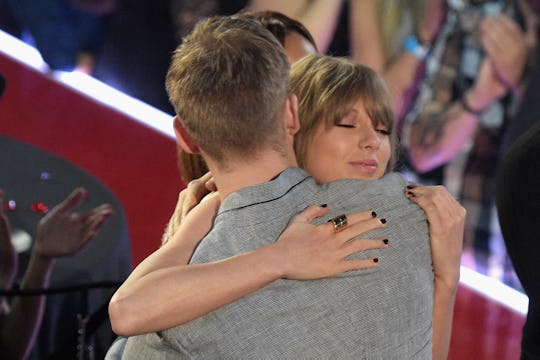 Jason Kempin/Getty Images Entertainment/Getty Images
Why Did Taylor Swift & Calvin Harris Break Up? Fans Are Heartbroken Over The News
People reported Wednesday that Taylor Swift and Calvin Harris have broken up after 15 months together. Why did Swift and Harris break up? People said an insider told the magazine that things just weren't working out, and that's all there was to it. "There was no drama. Things just don't work out sometimes," the unnamed source told People.
The news comes as a bit of a shock since Harris recently got into a pretty serious car accident, and Swift was reportedly right there by his side throughout his recovery, according to Hollywood Life. The accident was bad enough that he had to cancel multiple concerts in the end of May, according to E! Online. A source told E! News at that time:
Calvin is feeling better and is enjoying some time off to rest and get his body back to where it was. He is going to the gym but not working too hard.
And, according to Harris' Snapchat, he was not happy about taking the time off. E! Online reported that he shared a Snapchat of half of his face while in London on Monday with the London geotag and a caption that said "f*ck this." Could that message have been a subtle reference to more than just his injuries from the car accident? It seems unlikely.
Just a couple of months before the car accident, Harris and Swift went on a pretty swanky tropical vacation, and there was no shortage of sappy, romantic Instagrams (I'm not bitter, I swear).
(In case you're wondering about that last one, Harris' real name is Adam Wiles. Weird, right?)
People also noted that the breakup is strange given how Swift talked about Harris for her May cover of Vogue. She said:
I'm just taking things as they come. I'm in a magical relationship right now. And of course I want it to be ours, and low-key … this is the one thing that's been mine about my personal life.
Did it become less low-key? Did she want something more intense? What the heck happened?! I need answers. Fans were feeling the same way. Some of us just didn't want to believe that this relationship would end in a ballad. (I mean his beard!)
But, of course, some people started making jokes about how Swift will turn this breakup into yet another great album.
I guess another 1989-level pop album is a great "positive" that will come from this breakup for fans? It still has to be hard on Swift, and I sincerely hope that it was drama-free so that she can continue to be the goofy, sassy badass that she is.