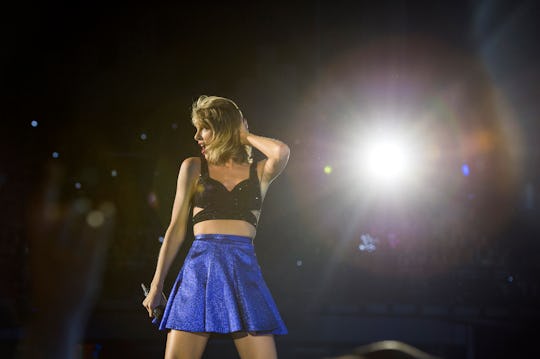 Carrie Davenport/Getty Images Entertainment/Getty Images
Here's Why T-Swift May Have Deactivated Her Social Media
On Aug. 18, 2014, the world was forever changed with the premiere of Taylor Swift's hit single, "Shake It Off." Since then, the singer has gone on to release her Grammy-winning album, 1989, go on a whirlwind world tour, and, this past year, take a break. But now, three years (to the day!) after Swift premiered "Shake It Off," she has done something seriously suspicious. So, why did Taylor Swift deactivate her social media? Fans everywhere are freaking out. And while many are pointing to the fact that this must mean new music is coming, it's important to look at the facts.
Update: as of 1:20 p.m. EST Taylor Swift has deleted all Tweets on her Twitter page.
Previously, all we knew was this: At some point on Friday, Aug. 18, 2017, Taylor Allison Swift effectively blacked out her social media channels. Her Twitter page no longer has a profile photo, her website is literally just one black screen, and her Instagram is empty. True, Swift had been consciously taking a break from social media for the better part of this last year, but this latest move is seriously unexpected. It's also important to know that while this story is being written, Swift's Twitter page is literally being erased, one aspect at a time. Seriously, she has now deleted all media from her Twitter page, and reduced the number of liked tweets by about 300.
Now, her Twitter looks like this:
Previously, her Twitter page was slowly being deleted, but still maintained several tweets and likes:
So, what could be going on? Well, it's important to remember that of all of Swift's many hats she wears, businesswoman might just be the largest one. Swift is talented in so many aspects, but her marketing and branding skills are better than most Harvard Business School graduates.
So, could she be using this social media blackout as a way to prepare fans for new music? Swifties on Twitter sure think so.
One Twitter user even noted that Swift's website, which is literally just a blank space, was specifically coded with the command: "ivegotablankspace."
Of course, it's also important to note that Swift is just coming off the heels of a stressful and emotionally exhausting sexual assault trial in which she was forced to recount the events of a radio DJ groping her. So, this could all be just a way for Swift to take a much-needed break following the trial.
But, fans aren't convinced. In fact, some ultra-savvy fans have noted that Swift could be performing on Good Morning America soon.
Swift has also deleted her bio on Twitter, which previously read "Born in 1989," as a nod to her best-selling album.
For now, all that we really know for sure is that Swift is up to something, and whatever it is, it's bound to be newsworthy.