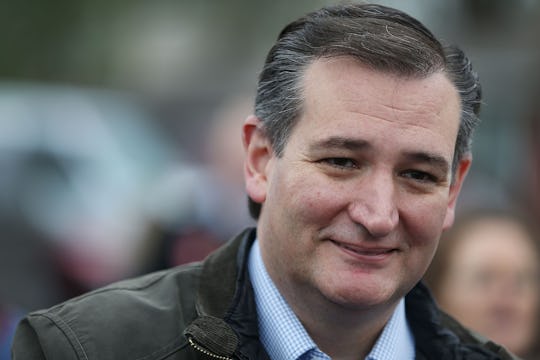 Joe Raedle/Getty Images News/Getty Images
Why Did Ted Cruz Drop Out? Things Officially Look Bad For The GOP
Just after Donald Trump officially won the Indiana primary on Tuesday, Texas Sen. Ted Cruz announced that he will be dropping out of the race for president. Why did Ted Cruz drop out? Simply because, after Indiana, it was literally impossible for him to surpass Trump. Trump won Indiana with roughly 53 percent of the vote, according to the Associated Press, which landed him 45 delegates.
Just prior to Trump's win at the primary, Cruz went a bit off his rocker while talking about an appearance Trump made years ago on the Howard Stern Show. Cruz said everything he'd ever wanted to say about Trump, according to CNN:
He is proud of being a serial philanderer ... he describes his own battles with venereal diseases as his own personal Vietnam.
This man is a pathological liar, he doesn't know the difference between truth and lies ... in a pattern that is straight out of a psychology text book, he accuses everyone of lying.
Whatever lie he's telling, at that minute he believes it ... the man is utterly amoral. Donald is a bully ... bullies don't come from strength they come from weakness.
Cruz garnered about 37 percent of the votes in Indiana on Tuesday, which landed him a full 20 percent behind Trump and didn't win him any delegates. After Indiana, Trump had a total 1,047 delegates. That's a terrifying number when you realize 1,237 are needed to snag the nomination. Cruz, by comparison, had 565, according to the Associated Press.
So, just why did Cruz drop out? He didn't mention Trump at all in his drop out speech, according to Business Insider. Instead, he just said that his path forward no longer seemed to exist, according to BI:
Tonight, I'm sorry to say, it appears that path has been foreclosed.
And he was right. The path was literally shut off by Trump's clear victory in Indiana (though it's not at all apparent that Cruz would've been able to gain on Trump even if Cruz had won Indiana). According to the AP, after Indiana, there are 520 delegates left in the race for the GOP nomination, which isn't nearly enough for Cruz to get the 1,237 he would need.
Cruz also suffered horrible personal attacks from Trump, who doesn't really know how to make an attack in any other format. For example, before the Indiana primary, Trump compared Cruz, whom Trump usually calls "Lyin' Ted," to a dog, according to Business Insider:
Ted does not have the temperament to be doing this. We've got to put him away tomorrow, folks.
Cruz was a Tea Party conservative and favorite among establishment Republicans, even though he actually wasn't really that much of a real favorite. Now, it's clear that the GOP has no better alternative to Trump. Ohio Gov. John Kasich has a measly 153 delegates, and that won't do anything in the face of the terrifying, sexist, and racist Trump train, which actually appears to be pulling into the 2016 general election.