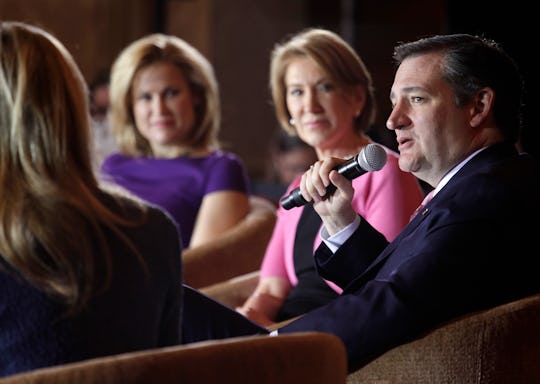 Darren Hauck/Getty Images News/Getty Images
Why Did Ted Cruz Pick Carly Fiorina As His Running Mate? It's An Interesting Choice
Ted Cruz has been looking for a way to stop front-runner Donald Trump's steamroll towards the Republican party's presidential nomination and, today, he will unveil another plan to do just that. On Wednesday, the GOP senator's twitter hinted that a big announcement would be taking place, telling followers to, "Join us at 4 pm." Political pundits speculated that Cruz would introduce his pick for a potential running mate at this four o'clock press conference in Indianapolis. The Associated Press later reported that the Texas senator has chosen ex Hewlett Packard CEO and erstwhile GOP rival Carly Fiorina as his vice presidential nominee. It seems to be an odd choice for a second-place presidential nominee to pick a running mate at all, let alone one who has little-to-no political experience. Fiorina has never held elective office and Cruz has only held office since 2013 and is, thus, a relative newcomer to Washington D.C. Cruz and his cohorts are undoubtedly hoping this move will generate momentum for his struggling campaign to win the nomination at the Republican National Convention in July. After the formal confirmation today, many are left wondering why Ted Cruz picked Carly Fiorina to be his vice president.
The GOP presidential hopeful has been facing an uphill battle throughout the Republican primary season in the form of Donald Trump and his juggernaut political blitzkrieg.
Cruz's announcement comes after a huge defeat during Tuesday's East-Coast primaries. He lost all five states by wide margins to Trump—currently on a hot streak after winning six straight contests. While Cruz won primaries in Wisconsin, Texas, Alaska, Maine, Iowa, Oklahoma, Kansas, Idaho, Wyoming, and Utah, he currently holds only 562 of the necessary 1,237 delegates needed to win the nomination outright and it's now a mathematical impossibility that he could attain this number before July.
Recently, his campaign strategy has shifted towards defense and damage control—or stalling Trump's momentum enough that he won't have enough delegate to automatically become the nominee. In an unprecedented, overtly anti-Trump move, Cruz has joined forces with another GOP candidate, Ohio Governor John Kasich. The rival presidential campaigns recently struck a deal that lead to both candidates conceding states to the other in hopes of narrowing Trump's lead. Cruz would stop running in New Mexico and Oregon and, in return, Kasich has promised to pull his campaign out of the key battleground state of Indiana. This strategy will, hopefully, block Trump from the nomination by putting forth only a single strong alternative on the ballot instead of dividing the votes between the two candidates.
Cruz has his eyes focused on a contested Republican National Convention where party elites, not voters, hold more sway over the outcome. But for the Texas Republican to have enough political clout to hold his own during such a contest, he needs to boost enthusiasm and support for his campaign. Naming a vice president could potentially provide the jolt his fledgling campaign needs.
Fiorina endorsed Cruz after dropping out of the GOP race in February and has been an active supporter ever since, frequently appearing at rallies as a surrogate for the man himself. She has called Cruz "a fearless fighter for our constitutional rights."
She finds his newcomer status refreshing when compared to life-long politicians. "Unlike the status-quo political class in D.C., Ted Cruz didn't cower when he got to Washington," she said in a statement when endorsing the candidate. "He stood unequivocally for the American people." In an election cycle where outsiders have more sway than ever before—look at Trump, Ben Carson and even Democrat Bernie Sanders' rise—Cruz's vice presidential pick is incredibly telling.
While campaigning for president, Fiorina positioned herself as a political outsider—a corporate executive who, like Trump, has the know-how to run the United States like a business (some people see that as a good thing, I guess). Cruz's campaign director Chad Sweet has praised Fiorina's business acumen. "She's one of the most talented business leaders of modern times," he told CNN's Jake Tapper. Perhaps Cruz is hoping to recruit Trump supporters with a business-savvy running mate but Fiorina certainly doesn't have the same cult-following as the current frontrunner—if she did, she might have lasted longer in the race herself.
Cruz and Fiorina are unlikely allies. Prior to her failed presidential campaign, she was a fairly standard pro-business conservative—think less wealthy, female Koch brothers. During her run, she took a big step to the right, hoping to appeal to Christian conservatives on issues like abortion, but her step is still a long way from Cruz's hardnosed Constitutionalist and Evangelical ideology. Although she has never held office, her relatively centrist Republican values could help attract the party establishment that Cruz once scorned, many of whom notoriously detest Cruz, back to the senator's side.
Planned Parenthood leaders called the Cruz/Fiorina ticket "the most loathsome pair in America," on Wednesday. "A Ted Cruz and Carly Fiorina ticket give women in this country nightmares," warned Planned Parenthood Action Fund Executive Vice President Dawn Laguens in an interview with ThinkProgress. Cruz and Fiorina have attacked the organization over abortion and fetal tissue donation. Fiorina notoriously, and quite inaccurately, claimed PP was maliciously scheming to "sell baby parts." (This became a popular refrain on the campaign trail during her failed campaign.) Describing a video from an anti-abortion group—later proved to be heavily edited and fabricated—Fiorina said she saw, "a fully formed fetus on the table, its heart beating, its legs kicking, while someone says we have to keep it alive to harvest its brain." Laguens asserted that the pair's "lies truly threaten women's access to health care in this country."
Prior to the official announcement, Republican frontrunner Donald Trump called into ABC's "Good Morning America" to harangue Cruz's VP pick, remarking that the choice would further hurt the Texan's cause. "Not because she's a woman, but Carly did not resonate at all with people," the reality star said. He remarked on Fiorina's presidential bid, saying, "We had so many candidates ahead of us on that stage but she had the one good debate. She went up, then she dropped like a rock and never resonated with the people. So, I mean, Carly is not going to do the trick." "I like Carly. Nice person but she never resonated. She didn't do well. She went — she was very low in the polls and by the end she was an insignificant player," he opined Wednesday morning.
In another phone interview on Wednesday, Trump told "Fox & Friends" that it was too early for Cruz to name a running mate, calling it "ridiculous" because Cruz has millions fewer voters than he does. "Frankly he's wasting his time because he won't be the nominee," he told ABC earlier.
In the bid to stall Donald Trump, Cruz has a friend in Fiorina, who was a target of many of the businessman's personal attacks (remember "who would elect that face?"). Her endorsement statement singled the billionaire out specifically. "The only way to beat Donald Trump is to beat him at the ballot box," she said. "And guess what, the only guy who can beat Donald Trump, who has beaten Donald Drumpf, is Ted Cruz." Cruz, presumably, hopes this is true and that, by working alongside Fiorina, he will come one step closer to the White House.