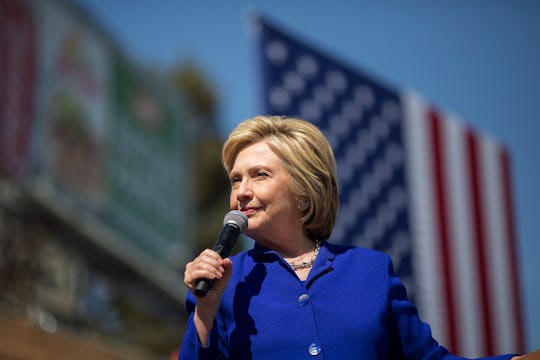 David McNew/Getty Images News/Getty Images
Why Did The Associated Press Announce Hillary Clinton As The Presumptive Nominee?
Hillary Clinton wrapped up an exhausting race for the Democratic primary on Monday when she gathered just enough commitments from superdelegates to secure the party's nomination against rival and Vermont Sen. Bernie Sanders. That announcement by the Associated Press late Monday shocked news organizations, who were waiting to make the call after the much-anticipated California primaries on Tuesday. So why did the Associated Press announce Hillary Clinton as the presumptive nominee before anyone else?
Sweeping victories the Virgin Islands and Puerto Rico primaries this weekend left Clinton just shy of the 2,383 delegates she needed to clinch the nomination. Most news outlets were waiting for the results of Tuesday's primaries in California, North Dakota, New Jersey, Montana, and New Mexico to call the race.
But the Associated Press reportedly received enough commitments from Superdelegates voting for Hillary Clinton to call a win for the former Secretary of State. Unlike regular delegates, who have to vote based on the results of their state primaries, superdelegates can vote for whomever they want. These 714 unelected delegates only decide their vote at the party's caucus. Many worry that because superdelegates can change their mind at any point until the national convention, the AP's announcement was premeditated.
But the AP is extremely cautious in its count. It only tallies superdelegates who say they are 100 percent committed to voting for a candidate.
"We only add people to the count if they unequivocally tell us that they are going to vote for whichever candidate at the convention," Stephen Ohlemacher, the AP reporter in charge of tallying the organization's delegate count told the Washington Post. "I've had people say, 'Well, I'm 95 percent there.' And I say, 'Well, get back in touch when you're 100 percent there.
The Sanders campaign railed against media reports calling Clinton the presumptive nominee. "We should let the voters decide who they want the Democratic nominee to be rather than having the media decide for them," Jeff Weaver wrote, Sanders' campaign manager said in a fundraising email on Monday. In a statement on Monday night, the Sanders campaign had called the declaration "a rush to judgment."
On Twitter, Sanders rallied his supporters against the reports. "Pundits and the political press wanna call this race early before every person votes," he tweeted. "Let's show them we ain't gonna let it happen. Go vote."
However, even if Sanders wins all six primaries, he will not have enough superdelegate votes to defeat Clinton, according to the AP. Still, Sanders hopes a win in California will convince superdelegates to change their mind. But experts say that is unlikely.
Not a single superdelegate has switched their vote from Clinton to Sanders thus far — which means that while Sanders is more than welcome to keep battling it out, it's likely Clinton will still come out on top in the end.