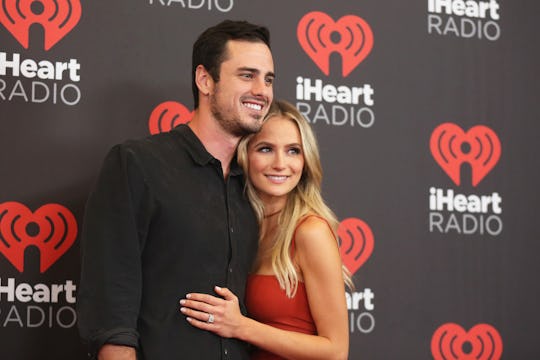 Isaac Brekken/Getty Images Entertainment/Getty Images
Why Did 'The Bachelor's Ben & Lauren Call Off Their Wedding? It Was Ben's Decision
The Bachelor's Ben Higgins and Lauren Bushnell didn't receive quite so harsh a backlash as JoJo Fletcher and Jordan Rodgers did when their nuptials were announced, but it's safe to say that Ben and Lauren got... a tepid response from fans. The couple had been pretty snoozy all season long, which left fans surprised when Ben chose the more safe and comfortable Lauren over the firecracker that was JoJo. And on the couple's Freeform spin-off show last week, Ben announced that he'd like to put off their wedding awhile longer. So why did The Bachelor's Ben and Lauren call off their wedding?
I'm not going to lie, I was somewhat surprised when the choice was made to give Ben and Lauren their own spin-off show. What was it that made them stand out apart from previous couples? And, as luck would have it, it only added to the media frenzy surrounding the two of them, which Ben seemed to imply was what was making their relationship feel hectic and rushed. On last Tuesday's episode of Ben & Lauren: Happily Ever After?, Ben expressed his usual hesitations about the relationship moving too quickly, and felt nervous about getting married before the couple really ~knew~ each other.
"The wedding's off," he said in a couple's therapy session, "I think this thing sped up real fast, and we haven't had a second to breathe."
Lauren pointed out:
"When you say that we just haven't done anything, it hurts because I've moved to Denver and had to switch jobs, and I left my life in L.A. to come and do the life with you. I have no idea what just happened. I feel completely blindsided."
Ben later admitted to Lauren outside of therapy, "I feel like we have so much to figure out that it's hard for me at this point to really feel comfortable getting married." It's unclear whether "so much to figure out" means things like seating arrangements for the wedding or like, real, long-term compatibility stuff. But either way, Ben promised Lauren that he wasn't seeking to break up with her. "I'm not leaving you," he reassured her during the episode. "I'm not. Don't think that for a second."
If his concern is that the couple is boring and hasn't really "done stuff" together, then how can the relationship be moving too quickly? And if Ben's problem is that the relationship is moving too quickly, then taking a break from the spotlight is probably a helpful way to slow things down. (And definitely acknowledge Lauren for the whole mess of stuff she's done to move the relationship forward.)
Hopefully, in the end, these two are able to work things out and be on the same page about things. Otherwise, their happily ever after may never actually happen.