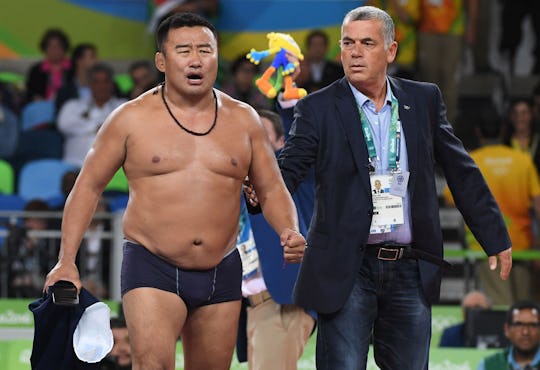 TOSHIFUMI KITAMURA/AFP/Getty Images
Why Did The Mongolian Wrestling Coaches Strip Off Their Clothes? It Was An Act Of Protest
In a surprising, slightly bizarre turn of events, the Mongolian wrestling coaches stripped out of their clothes after the men's freestyle 65-kilogram division third place competition on Sunday in Rio. Mandakhnaran Ganzorig of Mongolia was competing against Uzbekistan's Ikhtiyor Navruzov for the bronze medal in the summer Olympics. It seemed like Ganzorig had won the match, however, referees awarded a penalty point to Navruzov at the last minute leading to a bronze medal victory for Uzbekistan. The Mongolian coaches then stripped off their clothes in protest of the official's decision.
Head coach Tserenbaatar Tsogtbayar and his assistant coach Byambarenchin Bayaraa stormed the mat in celebration as the match came to a close, waving the Mongolian flag before their brief moment of euphoria came to a crushing end. The referees awarded a penalty point to Navruzov after the match finished, and the two Mongolian coaches began to strip off their clothes in protest. One coach stripped down to his underwear, while the other only removed his shirt. The two Mongolian coaches then heaved their clothes onto the officials' table. The pair refused to leave the mat and eventually had to be escorted out by security. The crowed chanted "Mongolia! Mongolia!" as they were removed from Carioca Arena 2.
An emotional Bayaraa spoke to the press after the match about his decision to remove his clothes:
The referees are no good. There are 3 million Mongolian people, all waiting for a bronze medal. And now? No medal. Only (a few) Mongolian athletes come here. All of the stadium was behind us. One hundred percent for Mongolia.
Bayaraa stated he believed the referees were unfairly in favor of Navruzov from the outset of the match. While this incident is unsurprisingly drawing a lot of attention for the silliness of the spontaneous strip show on the mat, this is actually not the first time wrestling referees have come under fire for making controversial decisions like this one.
The Associated Press reported that the international federation had already removed three officials from the Olympics and suspended them after a similar situation prevented Puerto Rican wrestler Franklin Gomez from winning a match. This decision also benefitted Navruzov, allowing him to come out victorious in two matches by the result of a controversial last minute referee call.
While many wrestling fans, as well as the Mongolian coaches, remain skeptical about the state of officiating in their sport, United World Wrestling Chief Nenad Lalovic remains optimistic. He spoke to the AP about the state of refereeing in wrestling, stating the situation "is much better than we had before. Much, much better." Although he's content, he admits that the sport still needs time to "cure all our diseases."
The crowd at Carioca Arena 2 in Rio booed Navruzo as he stood on the medal stand, undoubtedly spoiling a sweet moment for the wrestler. It may not be the Olympic moment he dreamed about, but it was certainly memorable.