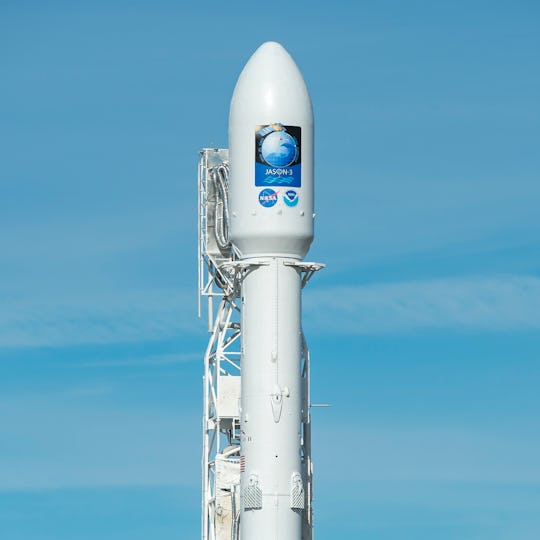 Bill Ingalls/NASA/Getty Images News/Getty Images
Why Did The SpaceX Rocket Abort Its Launch? It's The Third Canceled Launch Lately
SpaceX is being applauded for being cautious now that the ambitious space travel company has scrubbed its third launch in five days. SpaceX will reportedly try again later this week to launch a communications satellite. But why did the SpaceX rocket abort its launch just seconds before its scheduled takeoff? Apparently it all started earlier in the day.
The first attempt at launching the SES communications satellite into orbit was delayed in an effort to chill the rocket's liquid oxygen to as low a temperature as possible to try and boost performance, according to The Mirror. The second attempt at a launch was last Thursday, but that too was canned due to a technical difficulty. Sunday night's blastoff was first postponed when a boat mistakenly floated into the rocket's flight path just off Cape Canaveral Air Force Station, causing SpaceX to halt the launch mid-countdown. Elon Musk officials planned to re-start the launch, but sensors showed the earlier aborted launch of the Falcon 9 rocket caused oxygen temps to rise and computers to detect a "Helium bubble."
It's easy to understand why SapceX wants to be very careful with its Falcon 9 rocket, which cost the company $61 million. Part of the rocket testing is to get the rocket to land safely so components can be reused to drive down the cost and boost the sustainability of space travel. The company's cautious attitude earned praise from Chris Hadfield, a former space station commander.
According to Business Insider, the countdown did actually reach T-00:00:00 and the rocket engines even began to fire before the computers shut everything down to avoid catastrophe. The computer on the rocket takes control of the rocket starting at a minute before launch.
SpaceX founder Elon Musk, who is also behind Tesla, obviously has the stomach for risk. The company has already crashed three rockets trying to land, so Musk was preparing everyone for more of the same this time around. He Tweeted earlier in the year he expects to hit about a 70 percent success rate for landing in 2016, growing to almost 90 percent in 2017. So, there are likely to be plenty of additional crashes and false starts along the way.
Each rocket that bursts into flames will tell SpaceX something important about how the company will eventually be able to launch and land the rockets that might eventually help make space flight a reality for everyday folks. In the meantime, SES wants its satellite launched into orbit, so Musk and his team need to focus on the takeoff before they worry about sticking the landing. Reports said SpaceX will likely plan another shot at a launch in a few days.