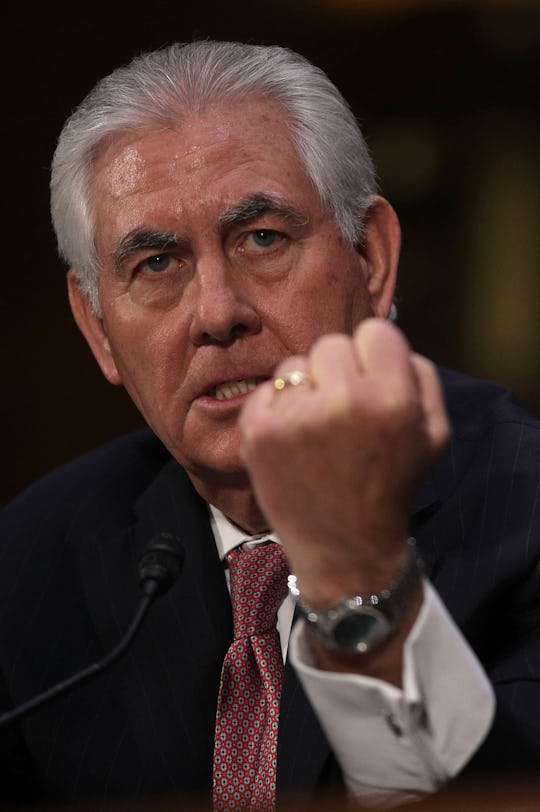 Alex Wong/Getty Images News/Getty Images
Why Did The State Department Management Resign?
The latest gambit of the U.S. government-sponsored game of chicken has left the State Department with no senior level management officials, and a depleted senior foreign service team. As word of Under Secretary of State for Management Patrick Kennedy's departure spreads, many are wondering why the State Department management has resigned. It could be that the officials don't want to work for the Trump Administration, according to the Washington Post, some within the department are speculating that Kennedy, in particular, may have been pushed out.
Kennedy had recently been taking on more responsibilities,and multiple insiders said that he'd been working closely with the transition team with the intent of keeping his post, appointed to him in 2007 by President George W. Bush. Kennedy has worked in foreign service since 1973. His sudden resignation on Wednesday afternoon is said to have been a complete surprise to others within the department.
Assistant Secretary of State for Administration Joyce Anne Barr, Assistant Secretary of State for Consular Affairs Michele Bond, and Director of the Office of Foreign Missions Gentry Smith all resigned along with Kennedy, according to U.S. News and World Report. In addition, Assistant Secretary of State for Diplomatic Security Gregory Starr, Director of the Bureau of Overseas Building Operations Lydia Muniz, and Assistant Secretary of State for European and Eurasian Affairs Victoria Nuland have also left the department.
This doesn't bode well for Rex Tillerson, who is expected to take over the department by the end of next week. His nomination was approved by the Senate Foreign Relations Committee on Monday, and according to The Hill, Majority Leader Mitch McConnell is pushing for the full Senate to vote soon. It's assumed that the Republican-majority Senate will vote him through, barring the unlikely event that three or more stray from party lines (click here for your senator's phone number).
Former State Department chief of staff David Wade told the Post that "It's the single biggest simultaneous departure of institutional memory that anyone can remember," and "These are very difficult people to replace." The decades of experience the departing officials have is critical to training new staff, and the news is particularly troubling given that Tillerson has no government experience whatsoever, and his foreign affairs experience amounts to receiving the Order of Friendship honor from Vladimir Putin for brokering an oil drilling deal in the Arctic. Keep your eyes peeled for the inevitable rogue State Department Twitter account.