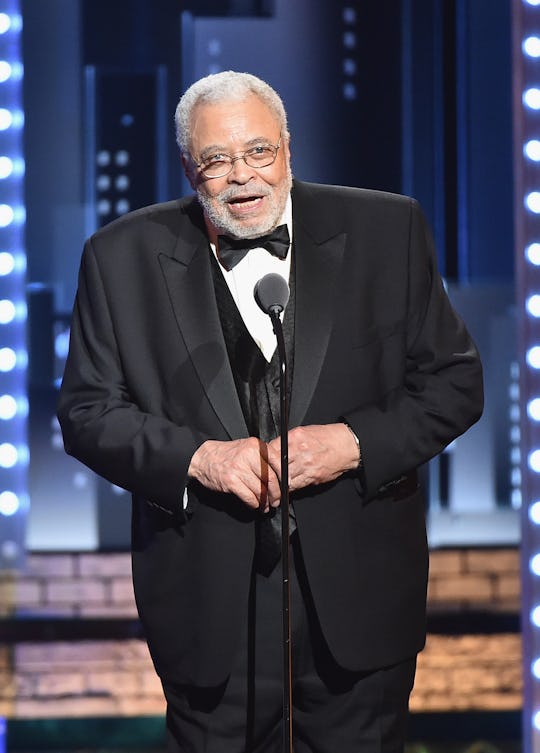 Theo Wargo/Getty Images Entertainment/Getty Images
James Earl Jones Was Robbed Of Screen Time At The Tonys
The Tony Awards made a couple of odd choices this year, (having Kevin Spacey host was unexpected). However, the question I'm asking right now is why did the Tony Awards skip James Earl Jones' Lifetime Achievement Award? There are plenty of acceptance speeches I'd be happy to skip, but this one in particular definitely deserved more airtime.
For the other major awards shows, Lifetime Achievement Awards are generally among the more anticipated wins of the evening. Remember Meryl Streep's nothing-subtle-about-it politically charged Cecil B. DeMille Award speech at the Golden Globes earlier this year? However there are several awards and wins being skipped this year at the Tonys, including awards for the less glamorous but no less important behind-the-scenes jobs.
I can only assume the reason for this is to make more time for the many, many performances the Tony Awards are showing, including numbers from each of the most popular and nominated shows like Dear Evan Hansen, Miss Saigon, and Falsettos. However, skipping James Earl Jones' Lifetime Achievement Award seems a little needlessly cutthroat. After all, this actor has been a Broadway institution for over 60 years. And he's the kind of man who probably won't be too bent out of shape that the network decided to give out his award during the commercial break. He's famously humble, and actually asked his name not to be mentioned in the Star Wars credits as the voice of Darth Vader because he felt his contribution was so small.
In case you missed it, Jones thanked just a few essential people in his much-deserved acceptance speech, including his father, who opened the door to theater for him, and the NYPD for all of their hard work and help assisting with the backstage doors every night. His major thanks he reserved for his wife, Cecelia, "for being such a wonderful companion in my life and in my work, and for being the great co-producer of our son, Flynn, and for being so dazzling on the red carpet," in his signature deep, imposing voice of his, that we have all come to know so well.
He started his speech by saying, "So this is a big deal, huh?" Yes, as a matter of fact it is kind of a big deal, and to be quite honest, Jones deserved more attention that just a little clip during the commercial break. As someone who has been such a huge part of the theater community for so long, did we really need to cut him off?