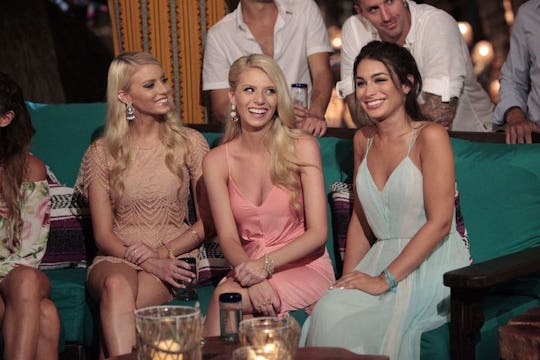 Why Did The Twins Leave 'Bachelor In Paradise'? They Gave Us A Surprise Exit
We're in Week 5 of Bachelor in Paradise, and, somehow, twins Haley and Emily Ferguson have stayed on this long, in spite of the fact that neither of them have really hit it off with anyone yet. So why do the twins leave Bachelor in Paradise? It turns out they decided to self-eliminate.
Carl King and Ryan Beckett came in last week, and while Carl did go on a booze cruise date with Emily, he failed the crucial test of recognizing the difference between the twins. Although, in fairness, Emily couldn't even remember his name. Basically, it seemed clear that they weren't hitting it off. Meanwhile, Ryan took Haley on a date, who pulled a twin switcheroo on him mid-dinner and he didn't notice the difference, either. Emily also had a pretty good plot going where she just kept tricking Daniel into giving her roses, but honestly, in spite of their claimed mutual interest, they never really got off the ground.
So is it any wonder that none of the three guys Haley and Emily had available for rose-giving really appealed to either of them? Instead of faking it and kicking off a flirt-lationship just for the sake of staying another week, the twins decided to throw in the towel on Bachelor in Paradise Season 3.
While they did genuinely seem to want to find love, compatibility with the rest of the cast just wasn't in the cards. But at least they got to hang out in Mexico with BFF Amanda for a few weeks of summer. Oh, and, just before they left, they decided to drop a little knowledge on said BFF. During the cocktail party, during which Haley and Emily presumably knew they were going to leave, they pulled Nick Viall aside and asked his opinion on former castmate Josh Murray. He's been locked at the mouth with Amanda since arriving on the beach, but Andi Dorfman's recently released tell-all It's Not Okay revealed an allegedly abusive streak in Josh that had Nick and the twins worried. Nick admitted to them that the things Andi wrote about him in her book were true, and said that he thought it would be bizarre for everything about Josh to be completely fictional, as Josh has been claiming all along.
The twins took the news back to Amanda after announcing that they were going to be leaving, causing a huge meltdown in Josh, and furthering his feud with Nick. Way to leave with a bang, ladies.