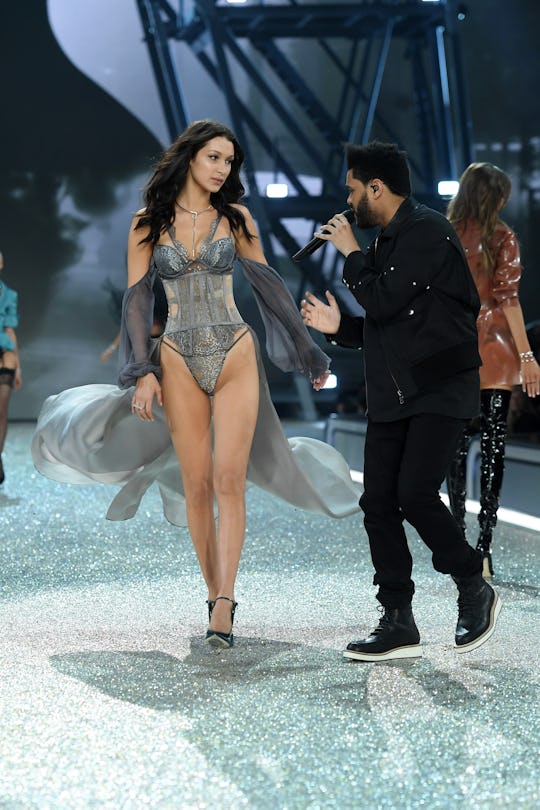 Dimitrios Kambouris/Getty Images Entertainment/Getty Images
Why Did The Weeknd & Bella Hadid Break Up? Timing Played A Huge Part
Relationships end for all kinds of reasons, some more valid than others. Nevertheless, it's a sad day when a couple calls it quits, especially when that couple is in the spotlight. Fans tend to root for power couples to last. And when "Starboy" singer, The Weeknd, and Victoria's Secret model, Bella Hadid, agreed to end their relationship, even the couple themselves still had love for one another. This became especially clear last week at the Victoria Secret Fashion Show; it was a plot straight out of the movies when their careers collided. If the two obviously still have feelings for one another, then why did The Weeknd and Bella Hadid break up in the first place?
Allow me to set the scene: The Weeknd stared down his ex, and Hadid shot a smirk back at him as she walked down the runway, looking beautiful, of course. These two were showing some serious goo-goo eyes at each other, even though they are no longer together. Reports show that timing, that sneaky bitch, had gotten the best of the couple. "Their schedules have been too hard to coordinate and he is focusing on finishing and promoting his album," a source informed People. "They still have a great deal of love for one another and will remain friends."
Hadid agreed. When asked about her ex-boyfriend, Hadid was very chill... perhaps too chill? "There is no awkwardness," she assured. "He is my best friend, and I am excited because I am walking during his performance." Hmm, sounds to me like Hadid still "can't feel [her] face" when thinking about him. And who can blame her? It's not fair when a clock shoves a wedge between lovers, but the interaction shared at the VSFS tells me that time will soon tick in their favor.
To support this theory, a source told E! News that the pair have been "talking" and "texting" again, and that despite the breakup, these two are "still in love." I really hope the former couple can make things work, but timing really shouldn't weigh in too much. If two people really want to be together, they'll make it happen. Until then, seeing this potential love story unfold in the storybook that is the media will be fun to watch. Love is in the air, after all, along with the scent of pine, and cinnamon. Let's wait and see if these two decide to inhale.