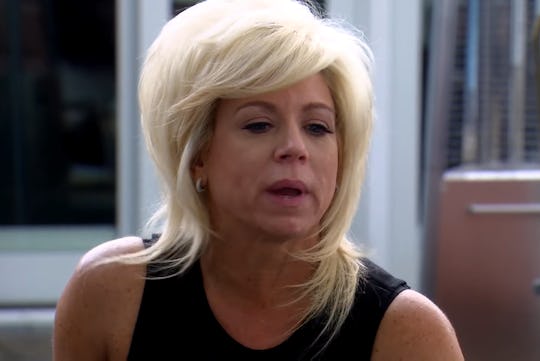 TLC/YouTube
Theresa & Larry Caputo Have Spoken Out About Why They Separated
It's always heartbreaking when a longstanding couple decides to split, and the separation of Theresa and Larry Caputo was no different. The couple, who have been married for almost 30 years, decided to separate at the end of last year, and now with the new season of Long Island Medium, fans are hoping to get some answers and find out exactly why Theresa and Larry Caputo separated.
During the premiere episode, the exes sat down together to have a face to face discussion about what led to their marriage following apart. Currently, Theresa has remained in New York, but Larry has moved to California, though this conversation seemed to occur prior to Larry's move and it was clear emotions were still running high.
Theresa opened up to Larry telling him, "I feel that you just pulled back from me. Because of all that shutting down and pulling back and not saying anything is what cause me to shut down." In a separate interview, Larry agreed with Theresa statements saying, "There was a point that came where I was angry that I wasn't getting the attention that I used to get from my wife, not realizing that she was making an effort and reaching out to me."
It seems that Theresa success with her TV series and her books is what drove Larry away. Unfortunately, they wouldn't be the first couple to split after getting a reality show. Other TLC reality stars like Jon and Kate Gosselin from Jon & Kate Plus 8 (now known as Kate Plus 8) and Matt and Amy Roloff from Little People, Big World also split after the success of their series.
However, it also seemed like Larry was willing to try and fix went wrong between them as he told Theresa he didn't want to "give up" and "throw in the towel." Unfortunately, Theresa had already made up her mind. "I feel like I can't keep flipflopping my emotions and that's what I've been doing...because I am at this breaking point," she said.
Thus the couple went ahead with their legal separation. It's unclear right now if and when they plan on getting divorced, but perhaps because they didn't jump right to a divorce there's still a chance that these two can make it work.
In their joint statement announcing their split in December, they said they would "always love each other" and were "united in supporting each other and our family." The couple have two children together — Larry Jr., 24, and Victoria, 23. With Larry now in California, it's unclear how much of him will now be seen on Long Island Medium. While many watch to see Theresa at work, they also watch to see Theresa's family life. Her relationship with Larry has been endearing and heartfelt to watch, and it's an aspect of the show fans will certainly miss.
Hopefully, Larry will still pop up from time to time, and maybe these two will be able to find some way to work it out in the end. But, if this really is the end for Larry and Theresa, fans can only hope that they're able to both happily move on and still keep an amicable relationship in the future. For now, fans will be watching the series to see what's next for them now that they've separated.
You can keep up with Theresa and Larry by watching the new season of Long Island Medium, which airs on Sundays at 8 p.m. ET on TLC.
Check out Romper's new video series, Romper's Doula Diaries:
Watch full episodes of Romper's Doula Diaries on Facebook Watch.