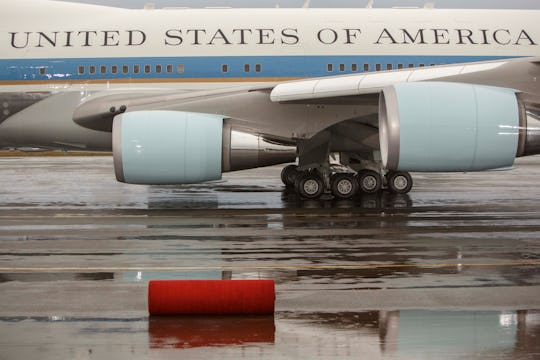 Carsten Koall/Getty Images News/Getty Images
Why Did Trump Cancel The Air Force One Order? He Says It Was Too Expensive
President-elect Donald Trump apparently plans to put the kibosh on the construction of Air Force One – the private jet historically used by presidents to travel. In a tweet Tuesday morning, Trump implied he wasn't keen on having Air Force One for the Trump administration. Why did Donald Trump cancel Air Force One? He cited cost, but that might not be the only reason he's peeved.
Considering that Trump probably already has at least a few private jets of his own, it's possible that rather than construct a new jet specifically for his presidency, he'd consider just revamping one he already has. Especially since the cost of creating Air Force One is said to be around $4 billion — at least by his estimation.
Boeing has been contracted to build the next Air Force One, which would be used by Trump and future presidents. It was announced earlier this year that the current model, a very traditional Boeing 747, would be replaced with a newer model by the time the next president took office in 2017. The current plane has been in the air for more two decades and is ready for retirement at the end of Obama's presidency.
Boeing told The Washington Post that its 747-8 is the only aircraft that complies with the regulations for presidential aircraft, and that any worries about cost would be handled by the Pentagon.
In a tweet Tuesday morning, Trump called Boeing's costs "out of control." When he later spoke to reporters outside Trump tower, he elaborated on the tweet by saying further that "The plane is totally out of control. It's going to be over $4 billion for Air Force One program, and I think it's ridiculous. I think Boeing is doing a little bit of a number. We want Boeing to make a lot of money, but not that much money," according to The Washington Post.
Shortly after he tweeted, Rosalind Helderman, a reporter from The Post, pointed out that, in Trump's most recent financial disclosure back in May, he reported owning between $50,001-$100,000 in Boeing stock. More recent disclosures haven't yielded any additional information, and attempts by Romper to reach out to Trump's administration for comment on the status of his investments and potential conflicts of interest have not been returned.
But not just any airplane gets the distinction of serving the president and his personnel. It's common knowledge that the president and the vice president never fly on the same aircraft in case of a disaster. Air Force One, then, must be paired with Air Force Two.
These airplanes are one of the most highly recognized and permanent fixtures of the American presidency, and have been since air travel became the preferred mode of travel for presidents during the Eisenhower administration in the 1950s. The first Air Force One, which carried President Eisenhower, was actually named Columbine II and wasn't a Boeing 747, but rather, a Lockheed C-121 Constellation.
The modern day aircraft fit to carry the nation's leader is equipped with some pretty souped up features: According to The White House, Air Force One can refuel mid-air, has extra protection for onboard electronics, and has the same kind of advanced security that would be found in command centers on the ground. This means that Air Force One can carry the president anywhere in the world, at any time, and can function as an Oval Office in the sky. So, it's a safe bet that the wifi on Air Force One is pretty reliable.
While it's likely that any private planes belonging to Trump have some pretty great features, they haven't been designed to serve a president. While that $4 billion dollar price tag might seem steep, when you consider that the entire purpose of Air Force One is to serve and protect the leader of the United States, it's kind of understandable that Boeing and the Air Force would want to pull out all the stops. Protecting the leader of the nation at 30,000 feet isn't exactly where you want to budget conservatively.
Although, maybe not: even during the campaign Trump had a lot of negative things to say about the use of Air Force One in general: whether it was the older model used by Obama or the proposed newer one that he'd be using, he's said time and time again that it's a waste of taxpayer money. No word yet on what Trump would propose to use instead of Air Force One, but if he's looking to save money, you can find some pretty sick airline deals online if you plan ahead — and who needs a secure line to the Pentagon when you get free chips?