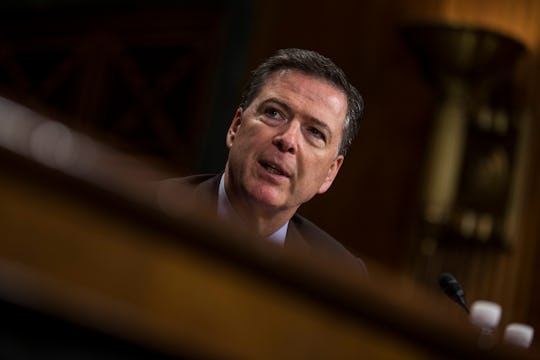 Zach Gibson/Getty Images News/Getty Images
Trump Fires FBI Director James Comey Amid Growing Controversy
FBI Director James Comey was back in the news this week, amid allegations that he misstated information about Hillary Clinton's emails. And on Tuesday, White House Press Secretary Sean Spicer told reporters that President Donald Trump had decided to fire Comey, removing him from office following growing controversy. But why did Trump, in a shocking move, show Comey the door? It seems the president was acting on the advice of Attorney General Jeff Sessions, and the reason had to do with Clinton's emails.
Trump sent a letter to Comey, dated Tuesday, that announced his termination. In it, the president wrote,
While I greatly appreciate you informing me, on three separate occasions, that I am not under investigation, I nevertheless concur with the judgment of the Department of Justice that you are not able to effectively lead the bureau. It is essential that we find new leadership for the F.B.I. that restores public trust and confidence in its vital law enforcement mission.
Romper has reached out to both the White House and FBI for comment on the dismissal and is awaiting a response.
According to Spicer, Trump acted based on the recommendation of Sessions and Deputy Attorney General Rod J. Rosenstein. Their concerns about Comey centered on the way that he handled the investigation into Clinton's use of a private email server.
In a letter, Rosenstein wrote,
The way the Director handled the conclusion of the email investigation was wrong. As a result, the FBI is unlikely to regain public and congressional trust until it has a Director who understands the gravity of the mistakes and pledges never to repeat them. Having refused to admit his errors, the Director cannot be expected to implement the necessary corrective actions.
And in a statement from the president obtained by Politico, Trump said, "The FBI is one of our Nation's most cherished and respected institutions and today will mark a new beginning for our crown jewel of law enforcement." According to the same release, the search for a new director will begin "immediately."
Given that the FBI is investigating whether or not members of the Trump campaign worked with Russia to interfere in the 2016 election, all eyes are on who he will choose to replace Comey and oversee the remainder of that investigation.
In 2016, Comey broke with Justice Department precedent by publicly discussing the Clinton email investigation. And in recent days, FBI officials notified Congress, Comey misstated certain key evidence when testifying about the rationale for making a new announcement about Clinton's emails less than two weeks before the election. Comey overstated the number and classification level of emails reportedly forwarded by Clinton aide Huma Abedin to her husband, Anthony Weiner.
Comey was appointed to lead the Federal Bureau of Investigation in 2013, by President Barack Obama. He was supposed to serve a 10-year term.