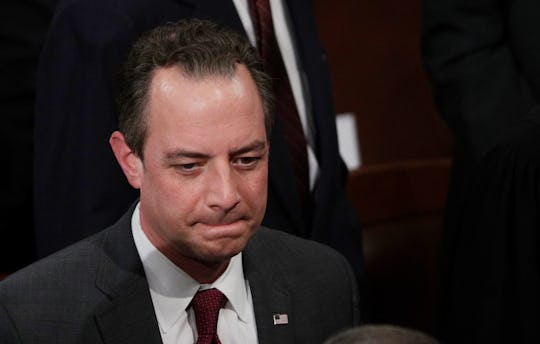 Alex Wong/Getty Images News/Getty Images
Trump Announces That He's Fired Reince Priebus On Twitter
The current President of the United States, Donald Trump, has proven that anything can and will happen, especially when you least expect it. This Friday, after giving a speech in Long Island, New York, Trump took to Twitter to make a very big announcement — that there would be a new Chief of Staff. So why did Trump fire Reince Priebus? There could be many reasons behind Trump's decision.
Shortly after Trump announced the news, CNN reported that a source close to Priebus told the news network that Priebus had resigned from his position in private on Thursday — and Wall Street Journal reporter Michael C. Bender confirmed in a tweet that Priebus told him that he had resigned.
"I am pleased to inform you that I have just named General/Secretary John F Kelly as the White House Chief of Staff," Trump tweeted early Friday evening. "He is a Great American and a Great Leader. John has also done a spectacular job at Homeland Security. He has been a true star off my Administration. I would like to thank Reince Priebus for his service and dedication to this country. We accomplished a lot together and I am proud of him!"
But this leads to even more questions — why did Priebus resign from his position? And what happens next?
Priebus told Fox New's Sean Hannity that there was no bad blood between him and the president, shortly after the announcement was made. According to Fox News Politics, Priebus said:
I'm going to be on Team Trump all the time. I'll always be out there trying to help the president, advance his goals, support him, as a friend too, and that's the other part of the job that people don't realize, you actually become friends. When you go through thick and thin together you get to know people really well, and he's a good man and I was honored to serve him.
To some, this announcement came out of left field, with many White House staffers left surprised by Trump's Twitter announcement, especially since Priebus had accompanied the president on a day trip to Long Island just minutes before the announcement was made. Earlier in June, Priebus even called the opportunity to serve Trump's agenda a "blessing" and expressed his thanks to the president for his position.
There could be many reasons as to why Priebus left his position in the White House. According to CNN, there had been speculation for quite some time that Priebus would be ousted from the White House, and it is clear that tensions had been rising between Priebus and others — including the newly appointed White House communications director, Anthony Scaramucci. In fact, during an interview with The New Yorker published Thursday, Scaramucci hinted that Priebus' resignation would be coming shortly.
According to The New York Times, however, Trump felt that Priebus "was not strong enough" in his position and had talked about bringing a General in to do his job. With just a little over six months into his presidency, according to The New York Times, Priebus "never won the full confidence" of the president and remained an outsider during his time in the White House.
Until Priebus comes out and says why he left the White House, his reasoning behind him leaving will remain unclear. What is clear, however, is that change is definitely happening in the White House. Priebus' departure signals that.