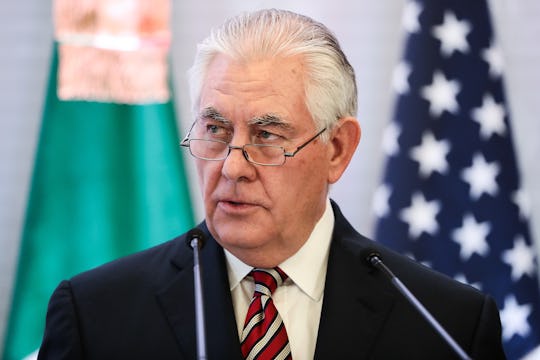 Hector Vivas/Getty Images News/Getty Images
Why Did Trump Fire Rex Tillerson? Or... Did He Even Fire Him?
Well, yet another member of the Trump administration bites the dust. Reminiscent of his days on The Apprentice, "You're fired!" still seems to be Donald Trump's phrase of choice. On Tuesday, Trump tweeted that Secretary of State Rex Tillerson would be replaced, The Guardian reported. But why did Trump fire Rex Tillerson? The details are vague, that's for sure.
Romper has reached out to the White House and Rex Tillerson for comment, but did not immediately hear back. Just before 9 a.m. Tuesday, the POTUS took to Twitter to make the announcement. "Mike Pompeo, Director of the CIA, will become our new Secretary of State," Trump wrote. "He will do a fantastic job! Thank you to Rex Tillerson for his service! Gina Haspel will become the new Director of the CIA, and the first woman so chosen. Congratulations to all!"
Although Trump didn't provide any insight regarding his motivation for the switch-up, CNN reported that Trump "thought it was the right time for the transition with the upcoming North Korea talks and various trade negotiations," according to a senior administration official. "POTUS asked Tillerson to step aside on Friday." Tillerson has not spoken to Trump and isn't even aware of the reason he was fired, Undersecretary for Public Diplomacy Steve Goldstein told CNN.
However, according to Hallie Jackson, chief White House correspondent for NBC, Tillerson was reportedly unaware of his firing until this morning. "WOW. Via @mitchellreports: sr. State Dept. officials tell her that while there had been longstanding tensions - Tillerson found out he was fired...from Donald Trump's tweet," Jackson wrote on Twitter.
In a press conference after his initial tweet, Trump again addressed his decision. "I think Mike Pompeo will be a truly great Secretary of State. I have total confidence in him," Trump told reporters, according to BBC News. "And as far as Rex Tillerson is concerned, I very much appreciate his commitment and I wish him well. He's a good man." The POTUS continued:
Rex and I have been talking about this for a long time. We got along, actually, quite well. But we disagreed on things. When you look at the Iran deal, I think it's terrible. I guess he thought it was okay. I either wanted to break it or do something a little bit differently. So we were not really thinking the same.
It's interesting to hear Trump say that he and Tillerson got along "quite well." However — and whenever — Tillerson ultimately found out about his ousting, it isn't exactly a secret that he and Trump weren't on the best of terms. In fact, as NBC News reported, the former Secretary of State allegedly called the POTUS "a moron" back in July, following a meeting at the Pentagon with members of Trump's national security team and Cabinet officials. Again and again, though, he refused to answer direct questions about the alleged insult. "I'm not playing," Tillerson said in an appearance on CNN's "State of the Union," according to NBC. "These are the games of Washington. These are the destructive games of this town. They're not helpful to anyone."
Tillerson, of course, is just the latest among a string of people leaving positions with the Trump administration, whether by choice or by force. Tom Price, Steve Bannon, Reince Priebus, Hope Hicks, Sean Spicer, James Comey— these are just a few of the notable people who have left prominent positions under the current POTUS, ABC News reported. And the list, it seems, only continues to grow with each passing week. Based on the sheer volume of White House/Trump administration positions that have bee vacated, one thing is pretty clear: Those who don't agree with the POTUS probably won't be sticking around for too long.