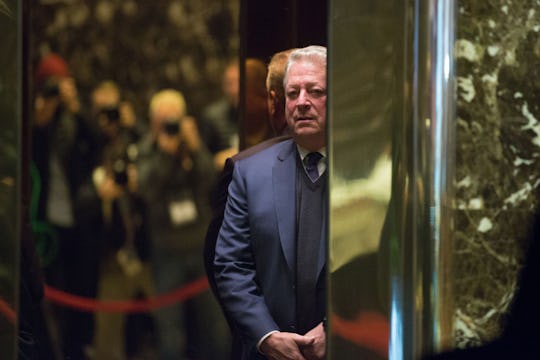 Kevin Hagen/Getty Images News/Getty Images
Why Did Trump Meet With Al Gore? Apparently To Talk Climate Change
With President-elect Donald Trump preparing himself for his inauguration, the country is equally busy readying itself for his presidency, as more information about his Cabinet picks and proposed policies continues to be revealed. Trump has held a number of high-profile meetings since his election victory last month, and on Monday, in what may be deemed as surprising news to many, Trump met with former Democratic Vice President Al Gore. But why did Trump meet with Gore? Apparently the meeting centered on climate change, Gore's activist cause of choice.
According to CNN, Jason Miller, a spokesperson for Trump, initially stated that Gore would be meeting with Trump's daughter, Ivanka Trump, but Gore later revealed that the "bulk of the time" was spent meeting with the president-elect himself.
"I had a lengthy and very productive session with the president-elect," Gore said, according to CNN. "It was a sincere search for areas of common ground. I had a meeting beforehand with Ivanka Trump. The bulk of the time was with the President-elect, Donald Trump. I found it an extremely interesting conversation, and to be continued, and I'm just going to leave it at that."
It's certainly an "interesting conversation" that piques a lot of curiosity, considering Gore has long been an activist in fighting climate change, and Trump has notably expressed public skepticism on the matter, referring to global warming as a "hoax" on Twitter in 2014.
In fact, the pair's history of opposing views on climate change is quite significant. In 2005, Gore founded The Climate Reality Project, a nonprofit organization that works to "spread the truth and raise awareness about the climate crisis" and the "ongoing dangers posed by global warming pollution." In 2007, Gore and the U.N.'s Intergovernmental Panel on Climate Change were jointly awarded Nobel Peace Prize for efforts to combat man-made climate change.
Trump, on the other hand, has been criticized for his comments on climate change, like in 2012 when he tweeted that the "concept of global warming" was created "by and for the Chinese in order to make U.S. manufacturing non-competitive." And although Trump has later claimed that that specific comment was a joke, he's made many other public statements expressing his belief that governmental efforts to stop global warming were too "expensive." Not to mention, as Mother Jones cited, he's publicly expressed his viewpoint that cold winters contradict scientists' research on global warming.
To say Gore and Trump have an opposing history with climate change advocacy would be an understatement. It seems only time will tell what the outcome of their meeting will bring – there are certainly a lot of questions in the air.