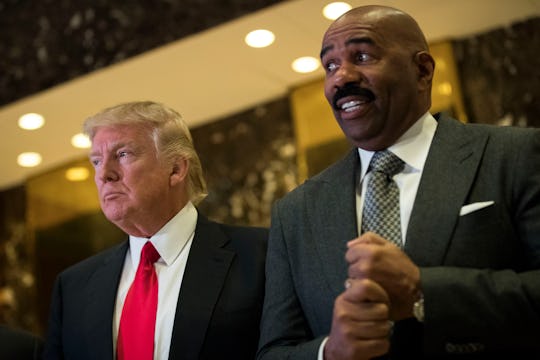 Drew Angerer/Getty Images News/Getty Images
Steve Harvey Met With The President-Elect Friday
Entertainer Steve Harvey is known for a few things — he is known for successfully hosting Family Feud and his own talk show, but also known for mis-announcing the winner of the 2015 Miss Universe Pageant. Harvey is not known for his career in politics — and maybe now he will be. After a surprise meeting with the president-elect on Friday, people are seriously wondering — why did Trump meet with Steve Harvey? In addition to being present in the entertainment industry, Harvey might becoming a little more present in politics.
The majority of Trump's cabinet has been appointed and confirmed by the Senate ahead of Trump taking his oath of office and becoming president next week. After appointing some controversial figures to his Cabinet in 2016, a lot of the initial shock has worn off — and people have stopped playing the guessing game as to who will be Trump's top aides. But in typical Trump fashion he keeps on surprising people. Which is why Harvey's appearance at Trump Tower and subsequent photo opportunity with Trump seemed so out of the ordinary. But they were meeting with good reason — according to The New York Times, Trump and Harvey (who endorsed Democrat Hillary Clinton for president) met to "discuss ways he could work with Ben Carson" — the person tapped to become the head of the Department of Housing and Urban Development, once he is confirmed by Senate.
Harvey could provide a good perspective to the department — according to The New York Times, Harvey "has spoken openly" about reportedly being homeless at the start of his comedy career. Harvey further explained his reasons for meeting with Trump, by posting a photo on Twitter:
According to the Chicago Sun-Times, Harvey and Trump discussed bringing "positive change to the inner cities" — including Chicago, Illinois and Detroit, Michigan — where Carson is from. Harvey remained quiet on how he would exactly bring change to these cities, telling reporters, according to Chicago Sun-Times, "I want to do something with all of the major inner cities to see if we can bring about some change and help some of these young people out." While Harvey said he would not get involved with politics, according to USA Today, this might not be the last time Harvey meets with Trump. Harvey told reporters, according to USA Today that Trump "genuinely wants to make a difference" in inner cities and that Harvey would "sit with him anytime."
While Harvey might not foresee a political future, he might be spending a little more time in Washington D.C. — especially if he plans on helping out Carson.