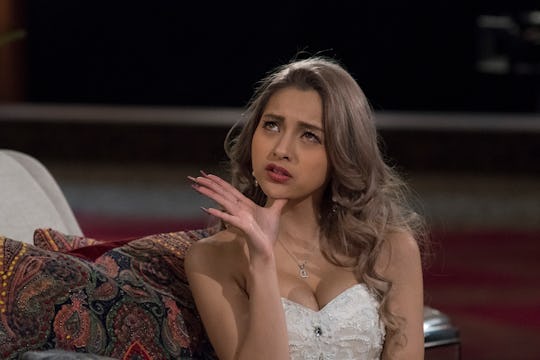 Lorenzo Bevilaqua/ABC
This 'Bachelor Winter Games' Departure Will Leave You In Tears
Ugh, I didn't expect to be emotionally invested in The Bachelor Winter Games but here I am. On Tuesday night, fan favorite Yuki from Japan said goodbye, and there wasn't a dry eye in the Vermont mansion. So why did Yuki leave The Bachelor Winter Games? She and Ashley I. weren't the only ones crying; Twitter was as well.
Yuki had perhaps the hardest challenge of all coming to the Winter Games. There was a pretty strong language barrier, but that didn't stop her from competing or making friends with anyone else. She was even cozying up with Ben Higgins for a hot second, but in the end both of them left alone.
She was actually the youngest contestant on The Bachelor Winter Games — younger than Bekah M. from Arie's season of The Bachelor, even, at 21 years old. Yuki hails from Japan, and was on Season 1 on The Bachelor Japan. "There is one star that will take over America and become maybe the biggest star in the world and her name is Yuki," Chris Harrison told E! News. I definitely think he's onto something, simply from all of the reactions to her departure. Once she said her goodbyes, Twitter was as emotional as she was:
Twitter did not hold back how crushed they were to see Yuki go. As Harrison told E! News, "She's just so compelling, she's so sweet, she's so funny." He added, "And she was our biggest challenge because she spoke so little English that we actually had a translator there on set with her because after I explained things, someone had to explain things to her so she understood."
Yuki clearly rose above the language barrier and became one of the most beloved people in the house. Then why didn't she find the love of her life? Well, it seemed that other couples paired off pretty quickly. She liked Ben a lot, but he's clearly not completely over his ex-fiancée, Lauren. Ben said his goodbyes once he realized that he wasn't quite ready to find another love so soon after Lauren. Once that happened, Harrison took Yuki aside and pretty much told her her time in the cabin was up.
But even though she was sent packing, the producers seem to have loved Yuki just as much as the viewers. "She is just a sweetheart of a young woman and a very open and emotional one," executive producer Bennett Graebner told E! News. "It was one of the more touching of the entire show was when she sat down with Chris Harrison and Chris talked to the both in English and in Japanese and it's both funny and very touching and sweet. That's something to look for."
I agree with Graebner: it was a pretty sweet moment. If nothing else, she seems hopeful that she will find her husband on television. In an interview with The New York Times, Yuki said she wants to return to the American Bachelor franchise. "I want to marry a man I meet on The Bachelor," she said in an email to the Times. "Until that day comes, I will keep being on The Bachelor [shows]."
I don't know if I necessarily want Yuki to keep competing on The Bachelor shows until she finds her husband, but I do want her to find love. What's more, she's so awesome that I'd love to see her on American television again — and I know I'm not alone in that. Whether Yuki will actually appear on Bachelor in Paradise as some Twitter viewers are vying for is uncertain, but she's found a fanbase stateside regardless.
Check out Romper's new video series, Romper's Doula Diaries:
Watch full episodes of Romper's Doula Diaries on Facebook Watch.