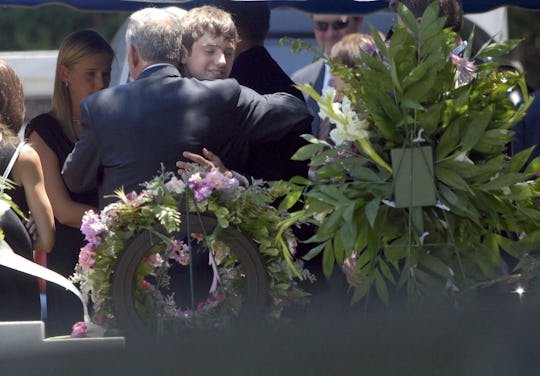 Barry Williams/Getty Images News/Getty Images
Why Didn't Burke Ramsey Ever Talk About JonBenet's Death?
This week, Burke Ramsey broke his decades-long silence to speak publicly about his sister JonBenét Ramsey's murder for the first time, in an interview with Dr. Phil. Burke, who was 9 years old when his 6-year-old sister was found dead in the Ramsey family's basement, for years has faced public suspicion that he had some involvement in the crime. Specifically, many have wondered why Burke Ramsey didn't ever talk publicly about JonBenét (ignoring the fact that most 9-year-old kids who lose a sibling are probably reluctant to talk about it, particularly to media outlets).
As the 20th anniversary of the murder approaches, a CBS JonBenét miniseries and multiple other TV specials have renewed public interest in the Ramsey case, which famously went unsolved. Investigative officials and conspiracy theorists alike have tossed around accusations, some aimed at Burke, now 29, and some at the Ramsey parents, John and Patsy. Patsy died of cancer in 2006. Regarding allegations that Burke played some role in JonBenét's death, L. Lin Wood, Burke's attorney, emailed Romper the following statement:
In May of 1999, the Boulder District Attorney and the Boulder Police Department publicly confirmed that Burke Ramsey was not a suspect or even a possible suspect. Any statement conveying that this young man was involved in the brutal murder of his sister - his life's best friend - is unquestionable false and defamatory. Conveying this false accusation for TV ratings is unconscionable and will result in litigation in the future as it has in the past. There is no legitimate journalistic or First Amendment value in broadcasting false accusations against Burke.
So, assuming that, since he has been publicly cleared of suspicion by multiple law enforcement offices, Burke had nothing to do with his sister's death, of course he didn't want to talk about it in front of the entire nation. A high-profile media interview with him was not going to be the final piece of the puzzle necessary to solve the case, but rather a chance to dredge up terrible memories to feed the public's curiosity.
Losing a loved one is a terrible thing. Losing a loved one to murder, when that loved one is only a child, is one of the worst nightmares I can imagine. Add in being accused of the murder of that loved one in newspapers across the nation, and the whole thing becomes whatever is worse than a nightmare.
Burke was only 9 when his sister was murdered in his basement. Think about the 9-year-olds you know. Would you want them to have to talk about a tragedy like that, and deny their role in it, in front of the whole nation? I'm betting you wouldn't. I'm betting you'd want to let them grieve and then try to have some sort of normal life.
That's exactly what Burke tried to do, he said, telling Dr. Phil, "For the last 20 years, I wanted to grow up like a normal kid, which does not include going in front of TV cameras." And as for why Burke didn't talk about JonBenét when he was older, he told Dr. Phil that speaking to the media "seemed like it would rouse it all up again." The reason he agreed to do the interview now, he said, was because of all the attention for the 20th anniversary.
Now that he's given the interview, hopefully Burke can get the normalcy he's been denied for the last 20 years.