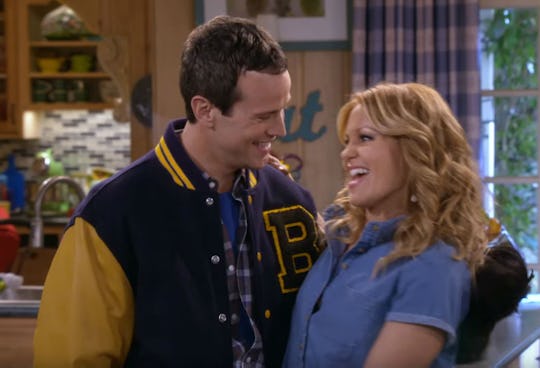 Netflix
Why Didn't D.J. End Up With Steve? They Were Sort Of Perfect For Each Other
If there is any reason to watch Fuller House, it's to find out why D.J. didn't end up with Steve. Uncle Jesse and Rebecca may have been the it couple of Full House, but D.J. and Steve defined #RelationshipGoals for all the tweens and teens watching. We see the duo together again in the pilot but, unfortunately, it's not in a romantic way. It's very evident that Steve is still in love with D.J. and the sparks are flying on his end, but D.J. doesn't seem to be feeling it early on.
One of the things viewers loved about Steve was that he wore his heart on his sleeve, and that trend continues in Fuller House. At a going away party for Danny, Steve told DJ that he'd always be there for her if she wanted to "start something old." Then, as she sent Steve off with all the party's leftovers, he got a little wistful, saying that he should have asked her to marry him at the prom way back when.
Uh, yea, Steve. We all sort of thought you would.
But D.J. doesn't seem to hold it against him. As it turns out, Steve got married first but he's divorced now. He jokes that it was another big regret of his life, since it made him lose all of his money and all of his hair. Har Har. Now he and D.J. are both single, as he reminds her numerous times. But she's a widow, so it's not like it's going to be easy to make a move.
It's silly, but only because it's so forced. Even now, it doesn't seem like D.J. even notices that Steve is hitting on her. Which is weird because his flirting attempts are so obvious. But as in love as the guy may be, it doesn't seem like he'd make the best mate. Trying to steal her Otter Pops is one thing, but when he brings Comet Jr. over because she's in labor he actually just sits and watches while D.J. delivers puppies. Not even gonna offer her a hand buddy? She is trying to juggle the whole single mom thing, and he just sort of sits there grinning. Because that's the only word to describe what Steve does: he just grins. He barely even says hello to Max.
But not all hope is lost. Hollywood Life reports that Season 1 of Fuller House ends with a wedding. Maybe if Steve plays his cards right, it'll be him and D.J. saying "I do" at the season's end. But he would seriously have to step up his game for that to happen. Steve and D.J. seemed like a good idea in 1995, but in 2016? I'm not so sure.