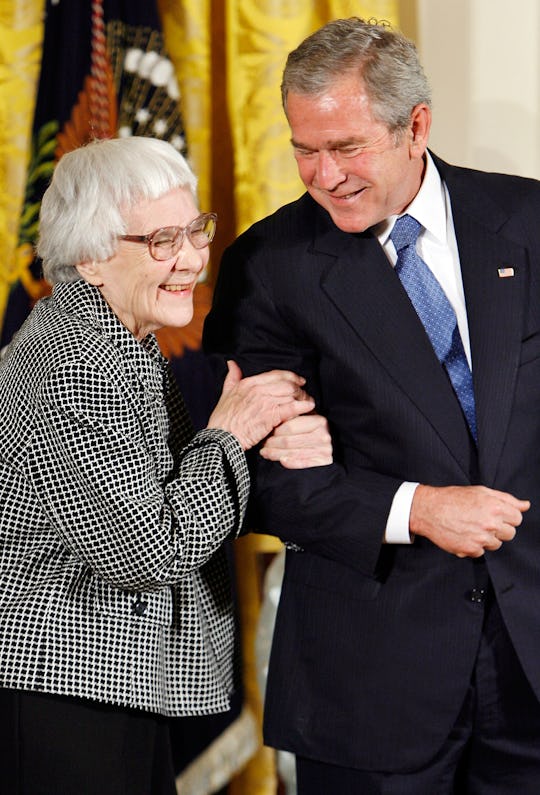 Chip Somodevilla/Getty Images News/Getty Images
Why Didn't Harper Lee Write Another Book For 55 Years? She Shied Away From Publication
The late Harper Lee, who died Friday, skyrocketed to fame when she published To Kill a Mockingbird in 1960 — yet, she did not release another book for a full 55 years following it. When her second novel, Go Set a Watchman, was finally published by HarperCollins in 2015, it was mired in controversy. Considering the success of To Kill a Mockingbird, why didn't Harper Lee write another book for 55 years? The timing, along with the fact that Lee was 88, suffered a stroke, and had recently lost her older sister Alice — who was reportedly very protective of Lee's privacy — made people question whether the author actually wanted to see the book published.
The manuscript was reportedly found by Lee's lawyers, and it later emerged that Go Set a Watchman, although billed as a sequel to TKAM, was actually written before the novel that won her a Pulitzer Prize. It was never accepted to be published, so Lee moved on to TKAM and found success there. In fact, the booming success that Lee encountered after publishing To Kill a Mockingbird acted, in some ways, as a deterrent to writing and publishing further books.
"I never expected any sort of success with Mockingbird," Lee told The New York Times. "I was hoping for a quick and merciful death at the hands of the reviewers, but, at the same time I sort of hoped someone would like it well enough to give me encouragement." According to The Telegraph, she said her wild success was just as scary as failure might have been:
Public encouragement, I hoped for a little, but I got rather a whole lot, and in some ways this was just about as frightening.
While Lee may have waited 55 years to publish a second book — however controversial that publication was — she waited far less time to begin writing again. According to the New Yorker, Lee was set to write a true-crime novel in the late 1970s, a decade after TKAM's publication. Lee was planning to tell the story of one lawyer's interesting case — about a reverend whose insured family members dropped like flies in mysterious accidents — and she even moved to lawyer Tom Radney's hometown in Alexander City, Alabama, to research the book.
Although Radney and his families believed for years that the book — tentatively called The Reverend — was just shy of publication, Lee never wrote more than a chapter of it. In a letter to a friend in 1987, though, she was still speaking of it, and wrote:
I do believe that the Reverend Maxwell murdered at least five people, that his motive was greed, that he had an accomplice for two of the murders and an accessory for one. The person I believe to have been his accomplice/accessory is alive, well, and living not 150 miles from you. ... I do not have enough hard facts about the actual crimes for a book-length account.
Her sister Alice, however, told a woman that while Lee "had collected quite a mass of material ... [Lee] never actually prepared anything for publication," so it is unlikely that The Reverend would be released after Lee's death. According to The Telegraph, however, Lee's lawyer said last July that she had found more pages in Lee's safety deposit box, where she claimed to have found the Go Set a Watchman manuscript earlier.
So it seems that Lee didn't actually wait very long at all to begin writing again after publishing To Kill a Mockingbird — but that the book's success did stunt her writing and her desire to publish again. Alice Lee may have explained her sister's writer's block best, as quoted by The Washington Post: "When you have hit the pinnacle, how would you feel about writing more?"
Maybe Lee only had one story she was truly burning to tell. Maybe the success of TKAM was overwhelming. Either way, she gifted the world with a book that has inspired entire generations and became a classic upon publication. If she chose to keep her writing private after that, that was by all means her prerogative.