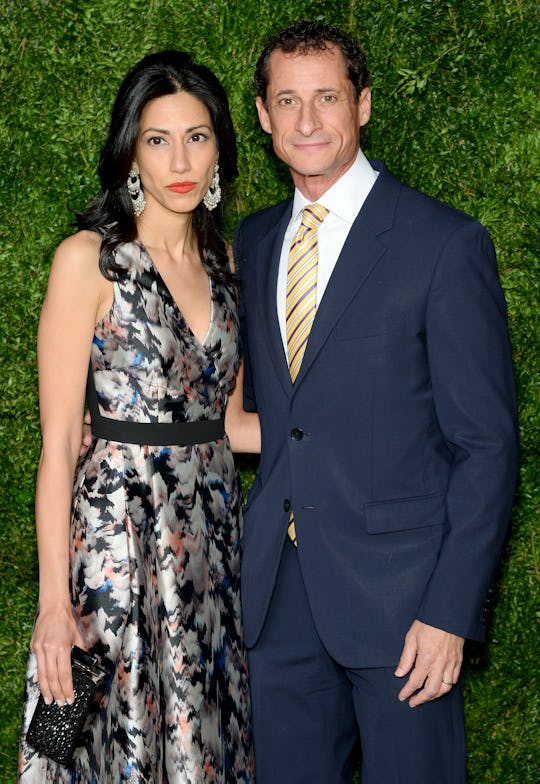 Andrew Toth/Getty Images Entertainment/Getty Images
Why Didn't Huma Abedin & Anthony Weiner Separate Earlier? She's Known For Her Loyalty
Monday morning, with just 71 days to go until the presidential election, the Clinton campaign woke up to a new sex scandal involving Anthony Weiner, the husband of top Clinton aide Huma Abedin. It was the final straw on the marriage and today Abedin released a statement saying she would separate from Weiner. Why didn't Huma Abedin and Anthony Weiner separate earlier? Not that it's any of anyone's business, but based on Abedin's track record of loyalty to Clinton, it's not surprising she would remain fiercely loyal to her husband as long as she possibly could.
"After long and painful consideration and work on my marriage, I have made the decision to separate from my husband," Abedin said in a released statement on Monday, according to the Los Angeles Times. "Anthony and I remain devoted to doing what is best for our son, who is the light of our life. During this difficult time, I ask for respect for our privacy."
The Post reported that Weiner has been caught in yet another sexting scandal, his third such embarrassing episode within the last five years. Making matters worse, one of the images he shared with a mystery brunette shows Weiner laying in bed in his underpants with what appears to be the couple's 4-year-old son, The Daily Mail reported. Weiner hasn't responded to Romper's requests for comment.
Weiner has since deleted his Twitter account, and his website AnthonyWeiner.com appears to be down as well.
It's not like Huma didn't try and give Weiner several chances, sticking with him after the first two scandals. Weiner for his part apologized publicly in a 2013 press conference for his behavior online with women, saying, "The behaviors that I did were problematic, to say the least, destructive to say the most," he said, according to The Observer. "Let me just reiterate to my wife how sorry I am that I did these things and how sorry I am to the people that got these messages."
He added that "This is entirely behind me."
And Weiner seemed to be on the road to rehabbing his image while staying at home with the couple's son while Abedin was on the trail with Clinton. Now The Daily Mail reported New York City Child Services will look into the incident, though Weiner has not been charged with any crime and no crime has been alleged as of yet.
And now Weiner's behavior is being used against Clinton by Trump as another example of why she can't be trusted.
"I only worry for the country in that Hillary Clinton was careless and negligent in allowing Weiner to have such close proximity to highly classified information," Donald Trump said in reaction to the scandal, according to the New York Times. "Who knows what he learned and who he told? It's just another example of Hillary Clinton's bad judgment. It is possible that our country and its security have been greatly compromised by this."
Now Abedin isn't just going to have to handle the rigors of a presidential campaign in it's final stretch, but she's also going to have to face more public embarrassment, scrutiny, and the loss of much of her support system.
In an interview with Vogue, according to the New York Times, Abedin talked about how much she has relied on Weiner during the campaign. "I don't think I could do it if I didn't have the support system I have, if Anthony wasn't willing to be, essentially, a full-time dad," she said.
Now she'll have to chart a new path in a very public way. She'll no doubt rely on advice from Clinton, who she's worked for since she was her intern in the 1990s, according to the New York Times.