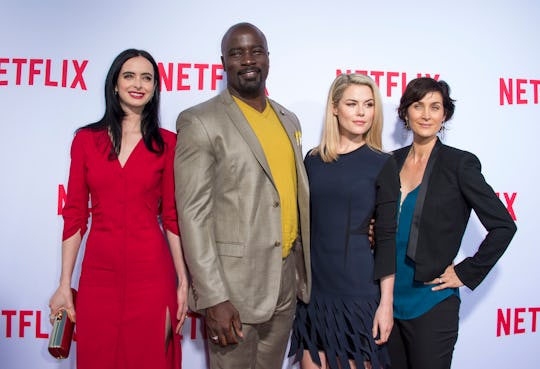 VALERIE MACON/AFP/Getty Images
Why Didn't 'Jessica Jones' Get An Emmy Nomination? It Deserved A Nod
On Thursday the Emmy nominations for this year were finally released and there were a lot of mixed reactions. From surprises to snubs to the predictable, the best of the best of TV has been announced and some fans are not happy with the results. In particular, Netflix's hit Marvel show, Jessica Jones, got completely snubbed this year leaving fans wondering why Jessica Jones didn't get any Emmy nominations at all?
In it's first season, Jessica Jones amazed fans and critics alike. Applauded for it's amazing writing, directing, and cast it's unbelievable that the show didn't receive not one nomination. Krysten Ritter was the perfect Jessica Jones and had amazing chemistry with Rachael Taylor, who plays Jessica's best friend, Trish Walker. Not to mention David Tennant's terrifying portrayal as the villain Kilgrave, Carrie-Anne Moss' role as the morally corrupt Jeri Hogarth, and Eka Darville's depiction of Malcolm Ducasse's drug addiction and recovery were all noteworthy performances.
Jessica Jones also received a lot of acclaim for the amazing number of women that were involved in the show. From show creator Melissa Rosenberg to the different women directors and writers throughout the season and of course the actors, this show felt like it was done for and by women in the best way. The number of feminist think pieces about the show is evidence enough that the show hit it's mark and fans are now desperately waiting for Season 2.
So where are the Emmy nods? Unfortunately, comic book based shows and sci-fi/fantasy shows in general typically don't go over well with the Television Academy. Tatiana Maslany, from Orphan Black, got her first Emmy nomination last year and got nominated again this year and fans were honestly shocked that it finally happened. It's very rare that a sci-fi/fantasy show gets recognition at the Emmys and although Maslany getting nominated twice now is a great step in the right direction, it's clear there's more that can be done.
Hopefully after Season 2 of Jessica Jones, which will surely be even better than the last, the cast, writers, and/or directors of the show will finally get the recognition they deserve. Until then, you can be sure Jessica Jones will be letting the Emmy voters know exactly how they fill about the snub all over Twitter.