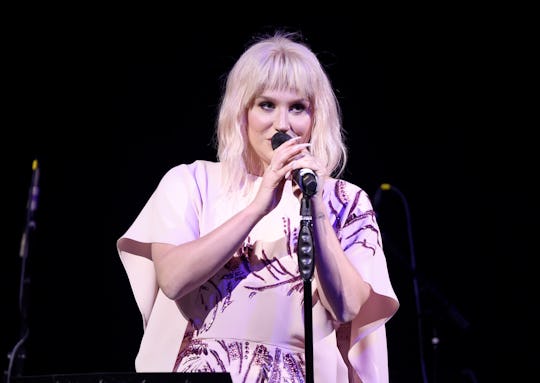 Angela Weiss/Getty Images Entertainment/Getty Images
Why Didn't Kesha Do An Interview At The Billboard Music Awards?
Everyone was waiting with bated breath to see whether singer Kesha would make her previously scheduled appearance at the Billboard Music Awards on Sunday. With all the recent messy drama between the Sony artist and her label — stemming from a legal feud between Kesha and producer Dr. Luke — it almost didn't happen at all. However, despite the fact that she finally did show up to the big Las Vegas awards on Sunday, Kesha didn't do an interview with any of the reporters or media outlets — and no one knew why.
Surrounded by a circle of representatives and celeb handlers, Kesha arrived at the awards late in the red carpet process and scurried through the press line, past most of the larger outlets like E! News, which dutifully tried its best to capture her attention. "We have to try!" host Jason Kennedy joked as he turned to yell out Kesha's name.
That's not to say that the singer didn't make an entrance, of course. Clad in a chic purple and gold pant-suit with bedazzled black trimmings and a platinum blonde, wavy shoulder-length bob, Kesha gave fans a peek at her always-epic style, posing for photographers like it was her business (and in some ways, it was).
An entourage of celeb handlers, makeup artists, and assistants at any major awards show isn't entirely uncommon for any big name artist, but for some reason, this Sunday's "Kesha Squad" seemed a little more helicopter-parent than usual. Some speculated that perhaps the group was meant to supposedly keep Kesha from speaking out.
That wouldn't be completely surprising. In the days leading up to the BBMAs, Kesha's status as a performer was shaky at best, due to the fact that Sony and Kesha's label, Kemosabe Records, were reportedly afraid the artist would use the stage to make a statement about her ongoing battle with Dr. Luke (Kesha previously alleged that Dr. Luke had sexually assaulted her multiple times over their years of working together; Dr. Luke was never charged with any crime in relation to those allegations).
Last week, it was announced that Kesha and Kemosabe Records had come to an agreement that would allow the singer to perform her previously scheduled cover of Bob Dylan's "It Ain't Me Babe," and things seemed to smooth over somewhat. "We are pleased that Kesha and Kemosabe Records have reached an agreement and very much look forward to having Kesha perform on the Billboard Music Awards this Sunday night on ABC," dick clark productions said in a statement to Billboard on May 19, adding,
Kesha's performance on the Billboard Music Awards was always approved, in good faith. Approval was only suspended when Kemosabe learned Kesha was to use the performance as a platform to discuss the litigation. Now that Kemosabe has obtained assurances, that it is relying upon, from Kesha, her representatives and Dick Clark Productions that neither Kesha nor her supporters will use the performance as such a platform, the approval has been restored.
But while the company seemed happy to do a sudden 180, on the red carpet Sunday, it became clear that — for whatever reason — representatives weren't too keen to give Kesha an open mic just yet. Hurrying past the line of eager reporters and entertainment show hosts, Kesha was scooted straight back past the VIP ropes where, supposedly, she'd be less of a threat.
No word from Kemosabe or Kesha's reps on whether any of that is actually true, of course. But for now, it doesn't seem like the hatchet has been buried completely.