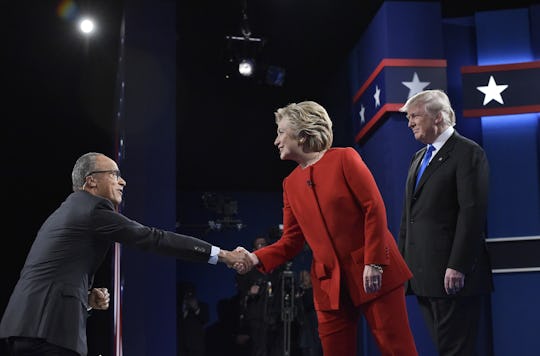 MANDEL NGAN/AFP/Getty Images
Why Didn't Lester Holt Keep Donald Trump From Interrupting Hillary Clinton? It Was Heated
The first presidential debate on Monday night was supposed to be dignified, but early on it was apparent that both candidates came to win (and go at each other). Earlier than most people might have expected Republican nominee Donald Trump began to interject his thoughts while Democratic nominee Hillary Clinton spoke. Even before the first half hour was up, it was a little odd that moderator Lester Holt didn't keep Donald Trump from interrupting Hillary Clinton while she spoke. It was a little bit frustrating.
The format of the debate was supposed to be six segments, 15 minutes in length, and candidates were allowed two minutes each to have their say and go back and forth. It was apparent very early on that that didn't sit well with Trump, who to his credit, had never done a one-on-one debate before and was more used to the circus that was the GOP primaries.
But the Republican nominee didn't seem to sit well with that rule. He began to not just interrupt but also interject one line responses to Clinton's points, like when she spoke to his failed business ventures and tax returns, and he spoke over her saying, "That's business, my dear." At another point early in the debate, Holt tried to give Clinton back her two minutes and the Democratic nominee explicitly joked that the clock should be set back to give her the full time.
Holt did start to get his act together and rein the Republican nominee back in when he started to talk over Clinton. But it took him a while, even as he reprimanded the audience for cheering, laughing, or clapping, which was against the rules that the Commission for Presidential Debates set forth for the night.
Even when Holt tried to stop Trump from going over time while he was talking about Black Lives Matter and stop-and-frisk policies, Trump ignored him. It was hard to keep the pace of the evening.
Earlier this month, Trump suggested that there was no need for a moderator and would rather face Clinton one-on-one, with just a time keeper. If anything, Monday's debate was a clear example of why moderators are needed: sometimes, politicians on both sides of the aisle need to be stopped from grandstanding.
Voters should give Holt some credit. He did fact check Trump during the segment on Black Lives Matter and also when the Republican candidate tried to say that he hadn't released his tax returns because of an on-going audit, which is something that the candidate can do, audit or not. Holt should've been more forceful early on, because the interruptions were real and consistent. But given the hard job of corralling Clinton and Trump — there wasn't a lot more the moderator could have done.