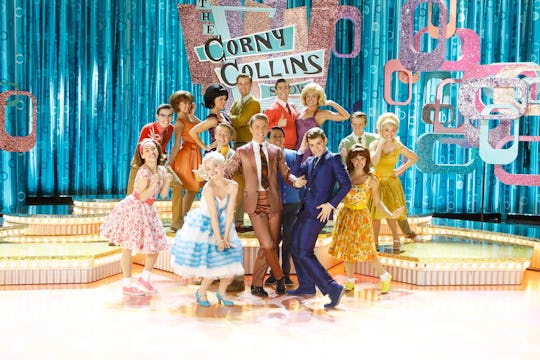 Trae Patton/NBC
Why Didn't Link Sing "Ladies Choice" In 'Hairspray Live!'? Fans Are Curious
As fans tuned into Hairspray Live! Wednesday night, many were wondering how close the network would stick to John Waters's original 1988 film. I mean, if there's one thing you don't mess with, it's a classic. And when it came to The Hop, fans wondered why didn't Link sing "Ladies' Choice" in Hairspray Live!?
Well, before diving into why Garrett Clayton was denied his moment in the spotlight, let's discuss why "Ladies' Choice" was in the NBC Live performance to begin with. As any fan of the original film and 2002 Broadway musical will tell you, "Ladies Choice" is not a song from the original production. The song was created solely for the 2007 movie remake, and was sung by Zac Efron who played Link Larkin. The reason for the addition was never explained, but my bet is they wanted to playcate to the High School Musical crowd who would pay anything to see Efron sing and shake his hips. (Oh who am I kidding, I would pay anything to see that — even more if it's in person.) And anyone who watches the clip from the movie would agree it was a good addition.
In an interview with Playbill, songwriters Marc Shaiman and Scott Wittman said Hairspray Live! would blend elements from the two films as well as the musical in order to please everyone watching. "We basically used the Broadway production, and then took the film songs that we most enjoy—songs that we got to write for the film—and have incorporated them into it," Shaiman said. "So now it's become a real nice hybrid of the Broadway version and the movie version."
But it wasn't all nice. At least, not for fans of Link Larkin. Rather than giving Clayton the proverbial mic, Derek Hough — who played Corny Collins — took over singing duties for "Ladies Choice." The news was announced weeks before the show aired, but it still took fans by surprise.
The Twitterverse does have a point. I mean, Link Larkin sings "Ladies' Choice" because he is the ladies' choice. Particularly, the choice of the film's protagonist Tracy Turnblad.
But as much as people want to hate on NBC for this singer swap, people felt Hough did a great job.
So yes, it was a shame that Clayton couldn't sing another song. But it was nice for Hough to have a chance to show off his talent outside of the ballroom.