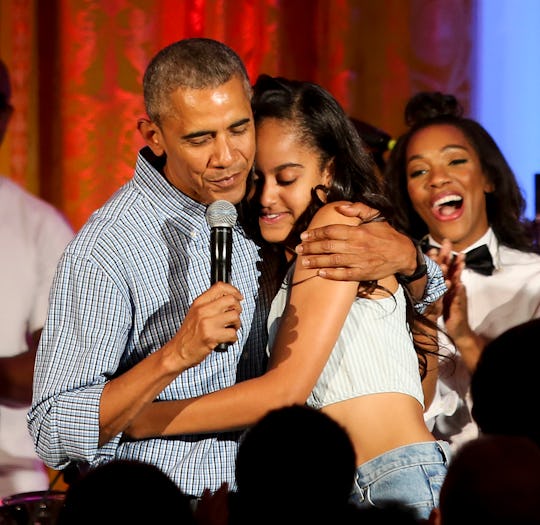 Pool/Getty Images News/Getty Images
Why Didn't Malia Obama Attend The DNC? She's Being Criticized For Having Fun
The Wells Fargo Center in Philadelphia, Pennsylvania was booming with raucous applause and cheering for President Barack Obama, Wednesday night. Barack Obama addressed the crowd of the Democratic National Convention urging them to vote for Democratic candidate Hillary Clinton. Vice President Joe Biden was there Wednesday night and Barack's wife, Michelle spoke Monday. Even though both Obamas were in attendance, some people wondered where the Obama's children were. Some even went as far as to ask why didn't Malia Obama attend the DNC — even if she didn't have to be there.
I remember having to attend work parties and engagements with my family as a teenager and I remember hating them. From the stale food to the speeches that went on and on I couldn't wait to get out of there. Now imagine if my father was the president and imagine how many work engagements I would have to go to then. For Malia Obama, it probably gets exhausting to constantly be surrounded by that all the time and would probably be great to take a break every once in a while.
Malia Obama was not present at the DNC because she was attending Lollapalooza — a music festival in Chicago, Illinois. Because even the president's daughter wants to listen to music in a crowd and have fun — just like the rest of every other music festival attendee.
Keep in mind, Malia Obama is still a teenager. At 18-years-old she is still allowed to go to concerts and have fun while her parents are working. I can't even count how many nights I left my parents at home to attend concerts as a teen. Just because her father is the President of the United States doesn't mean that people should have to hold her to a different standard.
Another thing to keep in mind — Malia Obama is not actually a representative of the United States — her father is. And while she might be looked at differently than other teens, she can still go out and have fun — especially at one of the best music festivals in her hometown of Chicago. It is not like this is the first time that Malia has attended a music festival or was spotted outside of the White House — she was spotted by Twitter users at the music festival just two years ago.
Malia's absence wasn't noticed by me on Wednesday. I was more enamored with Barack Obama's amazing speech than wondering where his children were. I was captured by his words — and not his personal life and not the whereabouts of his daughter. People should not have to look at the president's daughter any differently for attending a music festival over her party's convention. No one should be criticized for having fun. Not even Malia Obama.