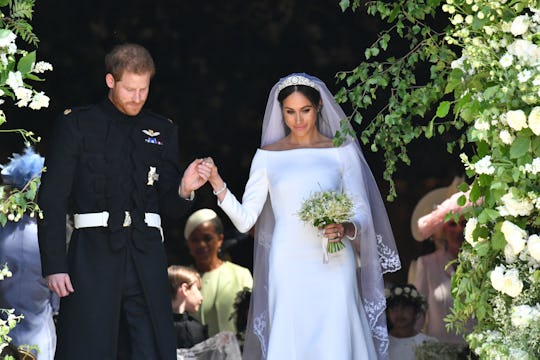 WPA Pool/Getty Images Entertainment/Getty Images
Meghan Markle & Prince Harry Didn't Kiss After Their Wedding Vows, & Here's Why
As exciting as it is to witness a royal wedding, it's also an event steeped in royal tradition and protocol. And that has meant that some of the elements which now seem pretty standard in modern weddings — tossing the bouquet, having your close friends serve as bridesmaids and groomsmen, writing your own vows — just couldn't happen for the royal couple. But etiquette isn't actually the reason why Meghan Markle and Prince Harry didn't kiss after their vows. While "you may now kiss the bride" is pretty much a standard part of most weddings these days, the Church of England doesn't actually allow the practice, so it would have been pretty inappropriate for the couple to close the ceremony with a kiss.
Just like Prince William and Kate Middleton before them, Prince Harry and Meghan Markle wed in a formal Church of England ceremony with the Archbishop of Canterbury and the Dean of Windsor officiating. And while the royal newlyweds' ceremony venue, St. George's Chapel, was much smaller than Westminster Abbey, the sacred location still made an alter kiss off-limits. In 2011, the Dean of Westminster, the Very Reverend Dr. John Hall, clarified that couples traditionally "don't do [wedding ceremony kisses] in the Church of England," according to Extra, and added, "That's sort of a Hollywood thing: 'You may now kiss the bride.' It doesn't happen here."
Unfortunately, a palace spokesperson confirmed earlier this month that Prince Harry and Meghan Markle also wouldn't be partaking in the balcony kiss, according to Us Weekly, which has become a particularly beloved element of modern royal weddings. The Duke and Duchess of Cambridge shared their first public kiss as husband and wife on the balcony of Buckingham Palace after their 2011 wedding, just as Prince Charles and Princess Diana had after their wedding in 1981, but in this case, it clearly wouldn't have worked. For one, the iconic Buckingham Palace balcony is actually about an hour away by car from Windsor Castle, which is a long way to go to kiss on a balcony. And, while a lovely choice of venue, Windsor Castle sadly doesn't have any balconies that could have served as a backup.
While that's disappointing news for anyone who had been looking forward to the moment, the chapel steps more than sufficed as an alternative — both for Prince Harry and Markle, and for a number of other royal couples before them. In 1999, Prince Harry's uncle Prince Edward, married Sophie Rhys-Jones (now the Countess of Wessex) at St. George's Chapel, and they too, skipped a post-vow kiss, posing together instead on the chapel steps outside. In 2008, Prince Harry's cousin, Peter Phillips married Autumn Kelly at St. George's Chapel, and also stood for photos outside the church before heading to their reception at Frogmore House in a horse-drawn carriage, according to Hello! And at their wedding in Scotland in 2011? Zara Phillips and Mike Tyndall shared their first public kiss outside the chapel, according to The Telegraph, much to the delight of the waiting crowd.
One big difference, at least, between Prince Harry and Markle's wedding, compared to some of the other royal weddings that have taken place at Windsor Castle? The 25-minute-long royal procession, which will take the couple through the town and back to the castle grounds ahead of their reception at St. George's Hall. That, of course, will give fans plenty of opportunity to catch a glimpse of the newlyweds (the route has long been packed with spectators, who have been watching the festivities live on screens that were specially set up for the crowd, according to The Telegraph). And, chances are, there will be plenty of kisses too.