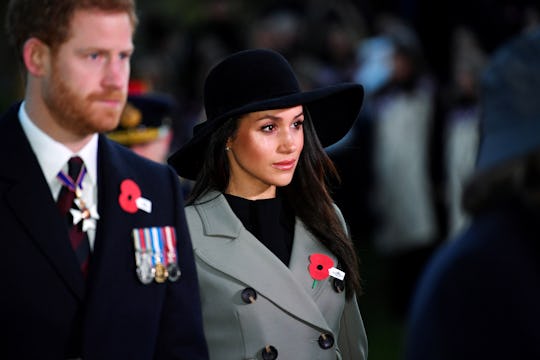 WPA Pool/Getty Images Entertainment/Getty Images
Meghan Markle's Mom Played An Important Role In Her Daughter's Wedding
Meghan Markle faced an unprecedented amount of family drama in the days and weeks leading up to her wedding to Prince Harry. Her father's attendance was a giant question mark up until the event itself, and her estranged half-siblings were very vocal about not receiving an invite. But for her part, it looks like her mother has been a source of stability and strength during this time. So why didn't Meghan Markle's mom walk her down the aisle? Doria Ragland supported her daughter's wedding in other ways.
The possibility of Doria Ragland walking her daughter Meghan Markle down the aisle was considered, but the pressure of that much international attention was deemed too great. "Doria and Meghan discussed it but she just didn't feel she could go through with it. According to the guidance I've been given, Meghan felt that it would be too much to expect her mother to perform such an important role when more than one billion people are expected to be watching," said royal journalist Duncan Larcombe in Harper's Bazaar UK. Basically, no one wanted to put that much pressure on Meghan's mom, which is beyond understandable. Most mothers of the bride have enough stress as-is, without the thought of a billion people watching in on this monumental moment.
Instead, Charles, Prince of Wales, walked Meghan Markle down the aisle for her wedding to Prince Harry. The heir apparent to the British throne, Prince Charles has grown up in the spotlight, so coping with the pressure of that much attention is hardly anything new for him. It's just another day in the life of a royal.
But Prince Charles didn't walk Meghan all the way down the aisle. She broke with tradition and walked part of the way all on her own. By walking from the chapel nave to the Quire alone, Meghan Markle has distinguished herself from every other royal bride in the United Kingdom, according to CNN. Was she making a statement as a strong woman with this decision?
Although she did not walk her daughter down the aisle, Meghan Markle's mother, Doria Ragland, was by all accounts welcomed kindly by the royal family. Ragland met with Her Majesty the Queen at Windsor Castle Friday afternoon, as noted in Vanity Fair. By all accounts, the British Royal Family and its closest confidantes were impressed with Doria Ragland and the way she maintained calmness during all the wedding preparations. "She's great, very impressive," said a Kensington Palace courtier in Vanity Fair.
So why didn't Meghan Markle's father, Thomas Markle, walk his daughter down the aisle? The answer is far from simple. Thomas Markle was set to attend the wedding and perform this duty, but he backed out at the last minute. Perhaps his reluctance was due to The Daily Mail's revelation that he staged photos of himself prepping for the royal wedding with the help of paparazzi, as noted in Elle. The photos, which feature the elder Markel reading up on British history and doing exercises, were apparently an attempt to regain a positive public image in the wake of tabloid scrutiny, as further noted in Elle.
Health problems also kept Thomas Markle from making the journey to Britain. He suffered a heart attack last week and completed heart surgery just days before the royal wedding, as noted in People. Ending the speculation for good, Meghan Markle confirmed that her father would not attend the wedding in a statement from Kensington Palace released on Thursday, May 17. "I have always cared for my father and hope he can be given the space he needs to focus on his health," said Markle in the statement.
Basically, Meghan Markle faced an above-average amount of drama leading up to her wedding. But it looks like she has the full support of her mother, as well as the British Royal Family, to help her transition to married life.