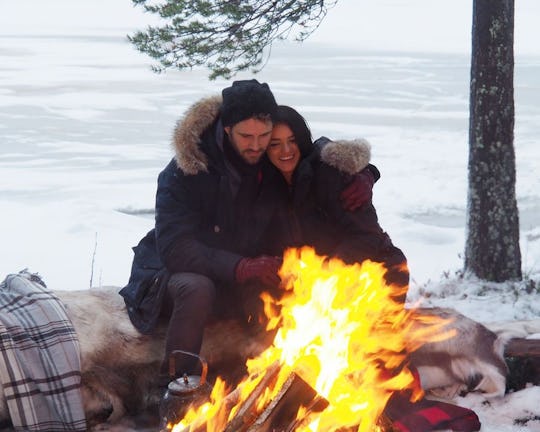 Terhi Tuovinen/ABC
Nick & Raven's Final 'Bachelor' Moments Were Tough
By now, we all know that Nick chose Vanessa Grimaldi as the recipient of his final rose and an extremely large engagement ring. That left Raven in a position he's all too familiar with. So why didn't Nick dump Raven privately on The Bachelor? Simply put, folks, that's not the way it works.
In the time leading up to Nick's proposal, it became increasingly clear that Raven felt ready for an engagement and was absolutely confident that she would say yes if he asked. Vanessa, meanwhile, wanted, as Nick put it, "unrealistic" reassurances that things between them would work out before she'd admit that she wanted to be engaged. Basically, Raven made clear that she was a sure thing, while Vanessa was much more guarded, almost combatively so.
During After the Final Rose, Vanessa admitted that, since she had never watched the show before, she didn't understand that her feelings wouldn't be reciprocated until the very end. But Raven, who admitted how deeply in love she was with Nick, how certain she felt about ending up with him, and how secure she was accepting a proposal, was the one whose feelings went unreturned. Twitter got pretty upset about it, wondering why Nick would allow her to wax rhapsodic about how much she loved him only to dump her.
Let's not forget that Nick himself got all the way down on bended knee before he was quieted by both Andi and Kaitlyn so they could dump him. The runner-up on The Bachelor and The Bachelorette typically make some pretty intense overtures of love before getting dumped. This serves to amp up drama, of course. But it also gives runners-up a final chance to share any lingering feelings about the relationship they may have been holding back until their final moment with their soon-to-be ex.
It sort of functions as an opportunity to leave it all out on the table, so to speak, before hearing whether the Bachelor or Bachelorette reciprocates their feelings. In truth, even if Raven had said nothing before Nick made his speech dumping her, she probably would have wanted to communicate her last few thoughts about their relationship and how much she loves him.
Her stoicism while Nick was breaking up with her was also addressed on After the Final Rose. Raven knew that some people thought she'd come across as sort of naïve, but she was committed to remaining optimistic about the relationship until the very end. Ultimately, Raven went out super gracefully, in spite of getting dumped. She seems genuinely happy for Nick and Vanessa, and has quite the fan following already for a potential run on Bachelor in Paradise.