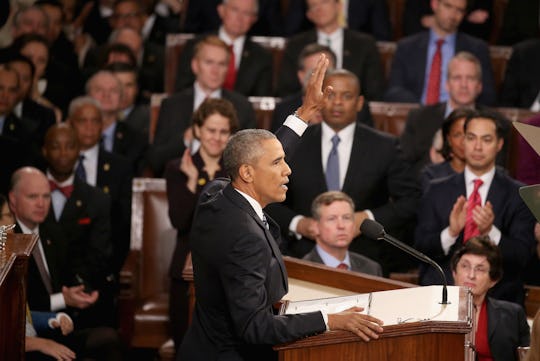 Mark Wilson/Getty Images
Why Didn't Obama Talk About Gun Control During His Final State Of The Union? The Topic Was Noticeably Absent
During Tuesday evening's State of the Union address, President Obama covered many of the issues facing our nation and the arguably bright future we look to after the past seven years of his presidency. Throughout his hopeful message, however, one subject was notably ignored. Gun control was only mentioned once throughout the entire night. It was practically imperceptible, sandwiched in the middle of a long, vague fix-it list which was glossed over at the beginning of the president's message. With all the recent events plaguing the country, why didn't Obama talk about gun control more?
The president at least managed to throw in one mention. "I'll keep pushing for progress on the work that still needs doing," he said on Tuesday. "Fixing a broken immigration system, protecting our kids from gun violence, equal pay for equal work, paid leave, raising the minimum wage — all these things still matter to hardworking families, they are still the right thing to do and I will not let up until they get done."
While the President did pay homage to the victims of gun violence in America by leaving an empty seat in the First Lady's box, the actual issue of gun violence was sorely lacking. After championing his executive orders to push gun reform and holding a town hall meeting to discuss the matter at length just days earlier, Obama's omission raised some eyebrows.
Even though there were ample opportunities for the President to drill home the importance of gun control, his lengthy talk on terrorism did not breach the topic of guns once, even when mentioning ISIS attacks committed by terrorists who had used locally (and legally) obtained weapons. He talked about keeping children safe through medical and technological advances, but his recent actions to curb gun violence apparently didn't warrant mention. Many were left wondering why Obama was so mum on the subject after such making it such a cornerstone of his presidency.
Time and again, gun control has proven to be a topic which American families are deeply invested in. Parents want to know that their children are safe, not only from terrorists or disease or an unstable economy, but also from guns, mass murders and school shootings which plague our country.
I do not fear Islamic extremists when I drop my son off at school every morning, but newsreel of school shootings will sometimes sneak into my psyche and send terror down my spine. But it seems those of us wanting to hear a hopeful message of change regarding gun control will simply have to keep waiting.
Images: Mark Wilson/Getty Images