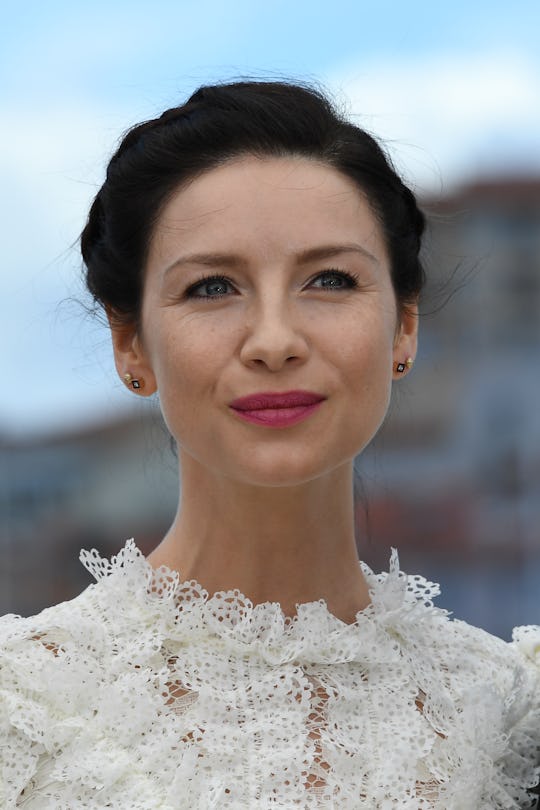 ANNE-CHRISTINE POUJOULAT/AFP/Getty Images
Why Didn't 'Outlander' Get An Emmy Nomination? It Deserves The Accolades
Outlander has been praised since its first season premiered for its quality and the talent of the cast. It's a show that has excelled in pretty much every way: great acting, writing, costumes, direction – the works. It has everything going for it that you could want from a prestige television show, but somehow that hasn't been enough to earn it the nominations or awards it deserves. Despite the critical and fan acclaim, it skated by again this year without any major nods. So why didn't Outlander get an Emmy nomination?
The hit show has earned itself some Golden Globe nominations, so it's not like it's gone entirely without the accolades. So why haven't the Emmys gotten on the Outlander train? There are a few possible reasons. For one, it's on a fairly unusual network; Starz wasn't exactly known for the quality of its shows before Outlander premiered. HBO is generally the cable network that grabs all the noms, whereas Starz and Showtime are still trying to catch up. It could also be that Outlander is considered a genre show with a focus on romance and time travel that has had some people (stupidly) dismissing it as nothing more than a chick show (as if that's a bad thing to be).
The only Emmy nomination the show had earned previously was Outstanding Music Composition for a Series for "Bear McCreary" in Season 1's "Sassenach." And while the music in the series is gorgeous, that's hardly the only thing it has going for it. Catriona Balfe has a tricky role to play as a heroine out of time, but she manages to knock it out of the park every episode, making fans fall in love with Claire a little more every episode. She has a talented co-star in Sam Heughan as well; his Jamie has been through the wringer on the series, and he has effectively conveyed that suffering, pain, and inner strength while maintaining Jamie's charm. That's not even to mention Tobias Menzies' dual role as loving husband and abusive psychopath, two separate parts that feel like two distinct people despite the fact that there's only one actor behind them both.
Though it did earn nominations this year in two categories (Outstanding Production Design for a Narrative Period Program and Outstanding Costumes for a Period/Fantasy Series, both for the episode "Not in Scotland Anymore"), with such talent both in front of and behind the camera, it's curious why Outlander has gone unremarked-upon in the award show circuit. Is it all to do with the network it comes from? Or could it be that the show has such an intensely female point of view that it has alienated the voters? If that's the reason, it's a dumb one, and it's also even more proof that Outlander should be earning heaps of awards.