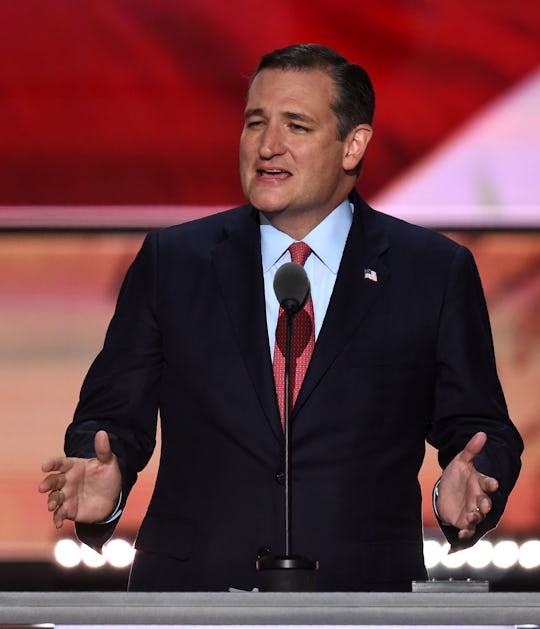 TIMOTHY A. CLARY/AFP/Getty Images
Why Didn't Ted Cruz Endorse Donald Trump? He Has A Long Term Strategy
A year and a half into the 2016 campaign, Ted Cruz took the stage at the Republican Convention. But the Texas senator was not there to celebrate his victory. Instead, he was called to unify the fractured party under his rival, Donald Trump. Cruz, who just months ago called Trump a pathological liar, a bully and a narcissist, now had to defend him. The Texas senator, one of the highest profile politicians to speak at the event, put aside past grievances and congratulated Trump. But the speech was not an endorsement. So why didn't Ted Cruz endorse Donald Trump?
It seems the Texas senator is playing the long game.
His perplexing speech sounded like a campaign stop, touching on issues as far fetched as police brutality, healthcare and internet regulation. The laundry list of values proved popular with the crowed. But Cruz, who posed the strongest challenge to Trump in the primaries, stopped short of endorsing the real estate mogul.
"We're fighting not for one particular candidate or one campaign," said Cruz. "Vote for candidates up and down the ticket who you trust to defend our freedom and be faithful to our constitution."
The crowed responded with a mix of anger and distrust, shouting "We want Trump," as if in an attempt to remind Cruz that the night was not about him.
At one point, Cruz' wife had to be escorted out of the arena, as angry supporters began aggressively yelling at her.
But Cruz continued with a standard platform speech that sounded much like the ones voters had heard time and again during the primary.
Why did Cruz sidestep an endorsement? Aside from any personal animosity that may still exist between the two candidates, Cruz may have avoided endorsing Trump because he is laying the groundwork for a comeback in 2020.
Cruz wants to capitalize on the extensive grassroots network and political capital he accrued during his campaign, and use it in the future. In the event that Trump looses the election, Cruz would be in a perfect position for a comeback in four years.
In order to do that, Cruz cannot lose the support of the Republican party. His speech, therefore, had to showcase his loyalty to the Republican party and it's platform, instead of to the party's nominee.
Unfortunately, that plan may have backfired. Cruz was booed off the stage as the crowd realized he was not going to endorse Trump. It looks like he's going to have to work a little harder to win over the hearts of Republican voters.