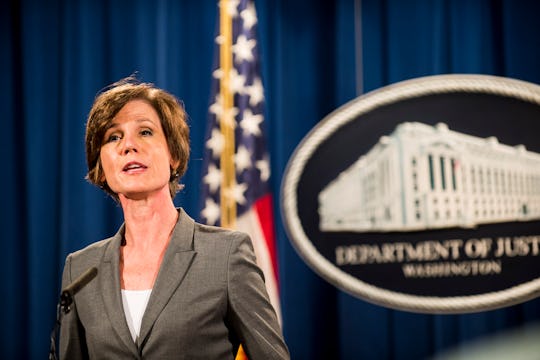 Pete Marovich/Getty Images News/Getty Images
Here's Why Trump Didn't Want Sally Yates To Testify
Sally Yates, the former acting attorney general fired by President Donald Trump after refusing to enforce his travel ban, is back in the headlines. This time, it's thanks to a new report, which claims that Trump didn't want Yates to testify before Congress about unconfirmed allegations members of his team had colluded with Russia. The report claims her testimony might contradict White House statements.
Press secretary Sean Spicer has disputed those claims, but still, it's not a great look for the administration given the recent controversy swirling around the Trump Russia hearings. According to a piece published in The Washington Post on Tuesday, Yates was planning to testify when, earlier this month, the Justice Department warned her that large swaths of her testimony were likely to be barred from discussion, thanks to the presidential communication privilege. On Friday, Yates' lawyer sent a letter to the White House saying that she still wanted to go through with testifying, and that she would not disclose classified information, but that if the White House wished to exert executive privilege over her testimony, it should make that intent clear by Monday morning.
The Post also reported,
Yates and another witness at the planned hearing, former CIA director John Brennan, had made clear to government officials by Thursday that their testimony to the committee probably would contradict some statements that White House officials had made, according to a person familiar with the matter who spoke on the condition of anonymity.
Then, later on Friday, the public hearing that was to include Yates' testimony was abruptly canceled by the Intelligence Committee Chairman Devin Nunes (R-Calif.), making a lot of people go, "Wait, what?"
The White House did not immediately respond to Romper's request for comment, but Spicer denied that Trump wanted to block Yates' testimony, telling reporters at a Tuesday briefing, "I hope she testifies. I look forward to it. We have no problem with her testifying." Still, there was no word on when or if the hearing would be rescheduled.
And Nunes, for his part, refused to tell reporters whether or not the White House had asked him to cancel the hearing. Nunes has drawn fire in recent days for his handling of the investigation of Russia's role in the election, with critics claiming he is too close to the Trump team to head the investigation fairly, and calling for him to step down.
Yates recently became a hero to many liberals for refusing to defend Trump's attempted travel ban, which targeted people from seven Muslim-majority countries (Yates, for her part, was concerned over the ban's constitutionality). Her testimony, if she's ever able to give it, will likely focus on former National Security Advisor Michael Flynn and his communications with a Russian ambassador, which led to his dismissal (although the timeline of who knew what when remains murky).
Here's hoping Yates is eventually allowed to share what she knows. The American people deserve to hear it.