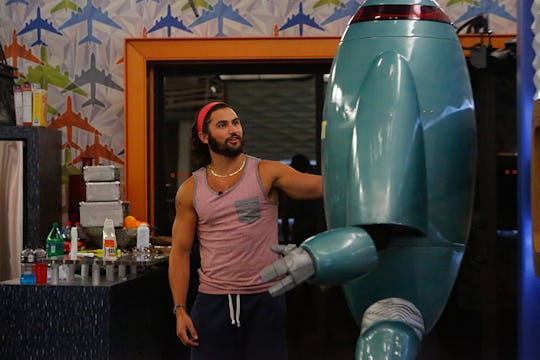 Bill Inoshita/CBS
Why Didn't Victor Use The Veto On Paulie On 'Big Brother'? It Was All A Part Of His Plan
Unless there's a flip in the house, it looks like Paulie will be evicted on Thursday night. Victor is HOH once again this week and he also won the power of veto and chose to keep nominations the same. Seeing as how it was Victor that made the nominations it wasn't all the surprising that he didn't use the veto on either Paulie or Corey but some Big Brother fans were hoping he would use it on Paulie anyway. So why didn't Victor use the power of veto on Paulie to keep him in the Big Brother house? Well, as Victor put it, he was just doing what's best for his game.
Up until this past week, Paulie was running the house. Even when he wasn't HOH, he still managed to make sure whoever he wanted out of the house left. Add to the fact that he's pretty decent at comps, and Paulie had a good shot at making it all the way to the end of this game. Thankfully, however, the houseguests finally caught onto Paulie's power and decided to put a stop to it. Victor and Paul realized it was in their best interest to get Paulie, Corey, and Nicole out sooner rather than later. Paulie and Victor are arguably the best competitors in the house and it was necessary for Paul and Victor to get Paulie out before Paulie tried to do the same to them.
Whether or not you agree with Victor's nominations you have to admit it was smart gameplay. With Victor and Paul now teamed up with James, Natalie, and Michelle, they're basically running the house and Victor and Paul have a very good shot at making it to Final Two right now. Once Paulie and Corey are out of the picture, Victor and Paul can pick off the last three one by one, as long as Victor can continue winning comps that is.
Hopefully for Victor and Paul's sake, Paulie will be out of the house for good come Thursday night. However, with the roundtrip ticket still in play and the possibility of a jury buy back anything's possible. If Paulie comes walking right back through those doors it won't be good for Victor's game. Here's to hoping Paulie gets out and stays out.