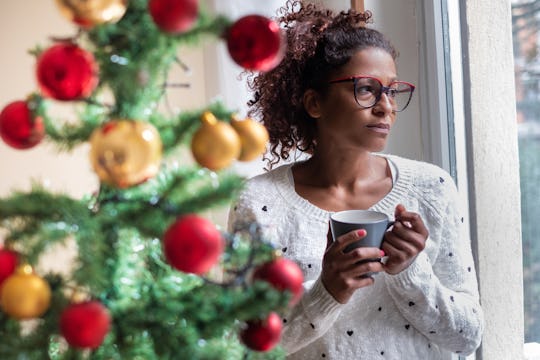 tommaso79/Shutterstock
8 Reasons Why The Holiday Season Is Causing (Or Worsening) Your Depression
Feeling depressed around the holidays can feel particularly excruciating, and being surrounded by merry people can amplify unhappy thoughts. Am I just broken? Isn't this supposed to be "the most wonderful time of the year"? For many, depression worsens around the holidays. While it won't take away your pain, it can be comforting to know that you are far from alone.
Today, it's not uncommon to make remarks like, "I'm so depressed," after a few bad days, but it's important to differentiate between holiday sadness and true depression. WebMD describes "the blues" as feelings of sadness, loneliness, or grief during a difficult life experience or season of life and makes this important distinction: "Most of the time, you can continue to function. You know that in time you will bounce back, and you do." For someone experiencing depression, these feelings don't dissipate over time. That sadness is pervasive and long-lasting, the site explains, often interfering with work and life, disrupting your eating and sleeping habits.
For those suffering with depression, the holidays can exacerbate symptoms and make the situation more dire. However, the holidays can also cause intense feelings of sadness for people who have never experienced depression previously. The National Alliance on Mental Illness states, "Holiday blues are different from mental illness, but short-term mental health problems must be taken seriously. They can lead to clinical anxiety and depression."
Most importantly, if your holiday depression escalates into suicidal thoughts or ideations during the season, it's crucial to reach out for help. While all circumstances are unique, here are some common reasons you may find yourself feeling down or depressed, and different ways you can prioritize your own mental health and self-care.
If you or someone you know is experiencing suicidal thoughts, call the National Suicide Prevention Hotline at 1-800-273-8255 or text HOME to the Crisis Text Line at 741741. You can also reach out to the Trans Lifeline at 877-565-8860 or the Trevor Lifeline at 1-866-488-7386, or to your local suicide crisis center.