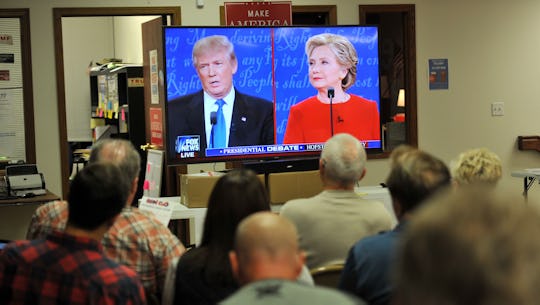 Steve Pope/Getty Images News/Getty Images
Why Do People Think Trump Won The First Presidential Debate? They Liked His Unpreparedness
The first presidential debate took place Monday night on stage at Hofstra University. Donald Trump faced off against Hillary Rodham Clinton in their first face to face debate hosted by Lester Holt. They started off by talking about the economy and jobs, touching on foreign policy issues like ISIS and — of course — hitting personal talking points about Trump's tax returns and Clinton's emails. Why do people think Trump won the first presidential debate? Twitter has been offering up some explanations, as has the media.
Throughout the debate, many media outlets were tasked with fact-checking the candidate's claims and remarks. Twitter, meanwhile, was more likely to critique the candidate's behavior, demeanor, appearance and — in many cases, grammar. Together, the facts and the impression left by each candidate will determine where the country is leaning in terms of voting in the November election. Polls have consistently shown the two are close in terms of supporters, but after the debate last night, many feel that Trump came out ahead.
While many have suggested that Clinton won the debate in terms of traditional debate expectations, others are suggesting that because Trump did not take a traditional approach, he further endeared himself to his supporters.