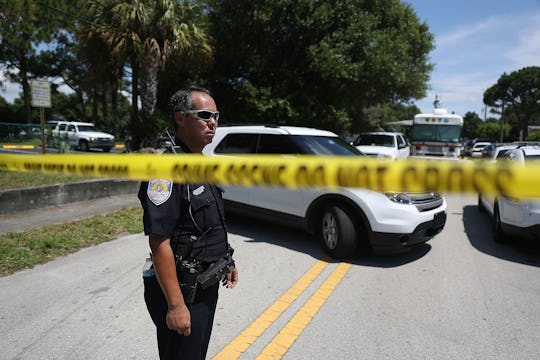 Joe Raedle/Getty Images News/Getty Images
Why Do Police Investigate Their Own Officer-Involved Shootings? The System Needs Changes
The officer-involved shooting of Alton Sterling in Baton Rouge, Louisiana, on Tuesday has sparked calls for justice, but some question whether that would truly possible if the investigation was carried out by the Baton Rouge Police Department, the very agency whose officers were involved in the incident. When police departments investigate their own officer-involved shootings, can the public reasonably trust them to be impartial? There have been calls for the Louisiana State Police to take over the investigation, but according to Baton Rouge's WAFB, state police Col. Mike Edmonson said that they can't unless Baton Rouge Police Chief Carl Dabadie requests them to do so. On Wednesday afternoon, NBC News reported that Louisiana Gov. John Bel Edwards has announced that the U.S. Department of Justice will investigate the incident.
The Justice Department has been known to step in after such high-profile cases, including the shootings of Michael Brown, Walter Scott, and Freddie Gray. According to TIME, the department has charged more than 400 law enforcement and corrections officers. However, much to the chagrin of Black Lives Matter activists, that doesn't necessarily result in a conviction, and many feel that even with an outside agency investigating, justice was still not served. According to Vox, it's extremely rare for law enforcement to be charged with a crime after killing a civilian, in part because the use of deadly force is permitted when an officer believes it to be necessary, even if it actually wasn't, and it's nearly impossible to prove or disprove what someone was thinking.
Some cities are considering a change in policy, however. After the May shooting of Jessica Williams at the hands of a San Francisco police officer, Mayor Ed Lee called for the resignation of Chief Greg Suhr, according to local public radio station KALW. It was reportedly the 21st fatal officer-involved shooting under his watch. In the wake of the shooting, District Attorney George Gascón has proposed the creation of a special unit dedicated to investigating all officer-involved shootings, according to the San Francisco Chronicle.
The problem is that there's no federal statute regarding who polices the police. Some agencies have agreements with state police, but many don't. For example, the Orlando Sentinel reported in March that while the Florida Department of Law Enforcement has a "memorandum of understanding" with a handful of sheriffs and police departments to investigate officer-involved shootings, the overwhelming majority of local agencies have not entered into such an agreement; only two of Florida's 10 most populous counties and seven out of their 25 largest cities have signed the agreement. It seems that when the choice is left up to individual law enforcement agencies, most would rather investigate themselves. Perhaps that choice should be removed.