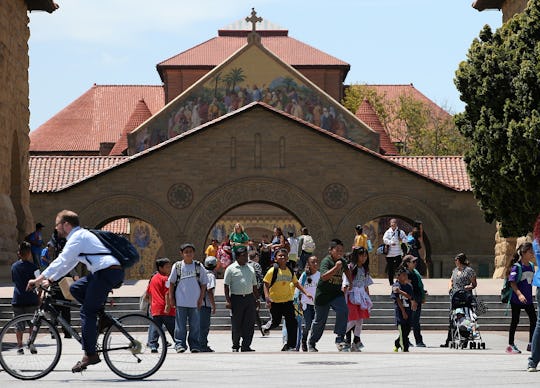 Justin Sullivan/Getty Images News/Getty Images
Why Do So Many Olympians Attend Stanford? Over 30 Students & Alums Made It To Rio
Katie Ledecky has been killing it in swimming this past week, but once the Olympics are over, she won't exactly be kicking back and relaxing: As NBC announcers continue to remind everyone, Ledecky will be attending Stanford University in the fall. And she isn't the only swimmer or Olympic athlete with ties to the university either. Among the list of this year's Olympians, there are dozens of athletes who have either attended the prestigious school, or are planning on it. So why do so many Olympians attend Stanford?
Ledecky isn't the only 2016 Rio Olympic medalist to be headed west to the private university, which is located in Palo Alto, California. Maya DiRado, who graduated in 2014, won a silver medal in the 400 Meter Individual Medley on Saturday and Stanford student Alexander Massialas became the first American man to win a gold medal for fencing on Sunday.
According to Stanford Athletics, 39 athletes competing in the 2016 Summer Olympic Games are current or former Stanford University athletes. It gets even more impressive. According to Forbes, Stanford University has had "at least one medalist in every Olympics in which the United States has competed in since 1912."
And Stanford isn't home to Olympians competing just for the United States. According to Stanford Athletics, former and current Stanford athletes are competing for 10 different countries, other than the United States — such as France, Hong Kong, and Israel — despite attending college in the United States.
So what makes Stanford so special? And why are the school's athletes so talented? According to NBC Bay Area, Stanford Athletics Spokesman Brian Risso is quite proud of the university's Olympic successes, telling the news station:
The opportunity to compete for a gold medal on the world's biggest stage is a tremendous accomplishment, and a byproduct of tireless preparation and hard work. The diverse Olympic contingent, with student-athletes hailing from 10 different countries and spanning 18 sports, is truly representative of our championship culture across the board, and synonymous with Stanford Athletics' reputation as the nation's most successful athletics program.
It's true — Stanford does have one incredible athletics program. In 2014, CBS Sports named it the number one best college in sports for the 2013-2014 academic year based on the university's incredible athletic excellence. Stanford varsity teams have also won a whopping 109 NCAA championships in different sports.
But Stanford isn't just a great school for sports, it is also ranked very highly in academics. U.S. World News and Report ranks the university as the fourth best college in the United States — next to Princeton, Harvard, Columbia and Yale. If sports and winning records aren't appealing to athletes, the the university's prestige definitely is.
But there isn't a specific reason as to why so many Olympic athletes attend Stanford. A university's campus, academic programs, student life, and athletics can all contribute to one person's decision to attend a school. It just so happens that a lot of Olympic athletes like Stanford the most — and they're pretty great at sports, too.