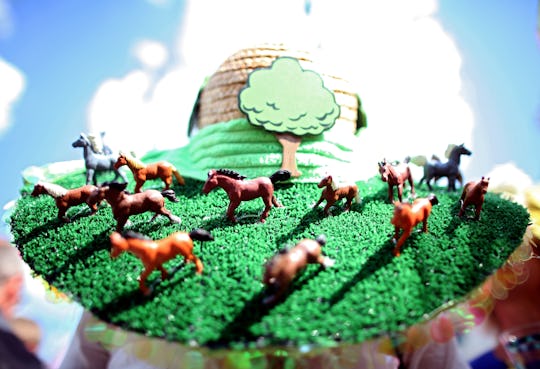 Chris Graythen/Getty Images Sport/Getty Images
Why Do Women Wear Hats To The Kentucky Derby? It's A Long, Weird Tradition
Every May, lovers of horse racing and drinking mint juleps in the sun descend upon Churchill Downs for the annual Kentucky Derby. Throughout the years, one of the Derby's most celebrated traditions is having the best hat at the track. But why do women wear hats to the Kentucky Derby anyway? It's always seemed so superfluous to the actual sporting (and drinking, lots of drinking) that goes on with the weekend. According to Derby lure, the tradition began with Col. Meriwether Lewis Clark Jr., who wanted to make the Kentucky Derby the American event for women and their beaus to show off the best spring fashions, in the spirit of Europe's "high class" racing events, like the Royal Ascot.
Of course, this was in the early 1900s, when a good hat was just as necessary to an outfit as a bag or shoes — hats were fashion. The extravagant (and sometimes silly) hat wearing that Derby lovers know today didn't really take off until the 1960s and '70s, according to the Derby's official history. That was also when women were given a chance to loosen up a little bit when it came to fashion and the new presence of television broadcasters at the event upped the ante, as it were, on standing out in the crowd.
Hats have long been a way for the British upper-classes to strut their stuff, too. Remember the hats at Kate Middleton and Prince William's wedding? They were the best part. Likewise, the Derby is a chance for horse racing fans to mix in some royal style with their southern hospitality. Plus, everything is just more fun if you have a goofy hat on. And that's just it. In recent years, the hats have become more of a way to show your enthusiasm for the party scene than rocking a Philip Treacy, although that's totally allowed, too. If anything, it's a good way to keep the sun out of your eyes.
According to attendees, hats tend to differ depending on where you're watching the races. Those who take over the seated areas tend to be more "elegant," while the riff-raff down in the general admission area just go wild. There's also a tradition of general admission attendees — and party goers watching on TV across the country — to actually make their own hats. As far as making your own hat goes, the bigger, brighter, and more things you can hot glue on it the better.
So strap on some head gear and start muddling your bourbon and mint. It's Derby time, people.