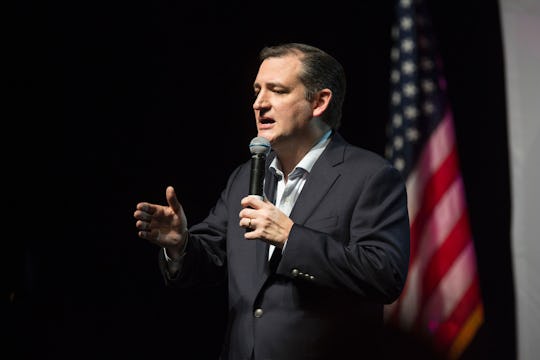 LAURA BUCKMAN/AFP/Getty Images
Why Does Alaska Matter In Presidential Elections? It Could Be A Pivotal State For Several Candidates
Delegates... Superdelegates... you know, all those really confusing presidential race terms that seem to have little to do with what you do when you visit the polls. Well, these terms may be hard to understand, but they are also super important for presidential candidates. And although Alaska has only 28 delegates, it's a lot for a state with so few residents (for comparison's sake, New Hampshire only has 25). And to many candidates, including Republican Texas Sen. Cruz., The Last Frontier is crucial for a variety of reasons. So why does Alaska matter in presidential elections?
Well — let's put it this way — it matters more to some than others. And here's why. Alaska is one of 12 states making their choices for presidential nominees come March 1, or Super Tuesday, as it's known. It marks the biggest day yet for the 2016 presidential race, and for those lagging behind front-runners such as Donald Trump, in particular Cruz, they need to perform well on Tuesday to have any chance at winning the nomination. The thing is, Alaska's voters have traditionally rewarded candidates with loyal grassroots followings during their GOP caucuses, like Cruz, which makes the state particularly attractive to the Texas senator, whose campaign might have untapped potential that deserves more attention (so far, Cruz has not visited the state in his travels across the nation).
But that's not the only thing on which Cruz is leaning in Alaska — residents of the state also historically vote in alignment with much of what the candidate stands for. Jason Miller, a senior adviser to Cruz, told CNN,
It's very much an anti-big government, anti-Washington, strong libertarian tendencies. They've got a lot of conservative leaders to come out of Alaska. I think it demographically really stacks up well for us.
Long story short, Cruz' campaign is realizing Super Tuesday might not be the cakewalk it once though it might be, and Alaska is becoming one of the campaign's main focuses, which also include Oklahoma and Arkansas.
Alaska has so many delegates for a state with such a small population, in part because of the strength of the Republican party in the state. Alaskan Republicans have three representatives in Congress, and right-wing politicians make up the majority in the state's House and Senate.
Things in Alaska will go down a little differently this year. Republicans are marking Super Tuesday in Alaska with what the party is calling a "Presidential Preference Poll," rather than a caucus. Through the PPP, candidates must garner at least 13 percent of the vote to be eligible to receive delegates. And according to an Alaska Dispatch News poll, only Republican candidates Donald Trump and Cruz seem to making the cut. (The poll shows Trump beating Cruz out by a mere 4.1 percent.) On the other side of the aisle, the same poll shows Democratic presidential candidate and Vermont Sen. Bernie Sanders beating out former Secretary of State Hillary Clinton (likely due to the state's preference of more grassroots campaigns).
So, it seems at least in this race, some of the struggling candidates have turned to Alaska to help ensure a Super Tuesday victory. And for Cruz and Sanders, judging by Alaska's voting history, it could just work.